AlterStores Real Review – Does it Deliver Results?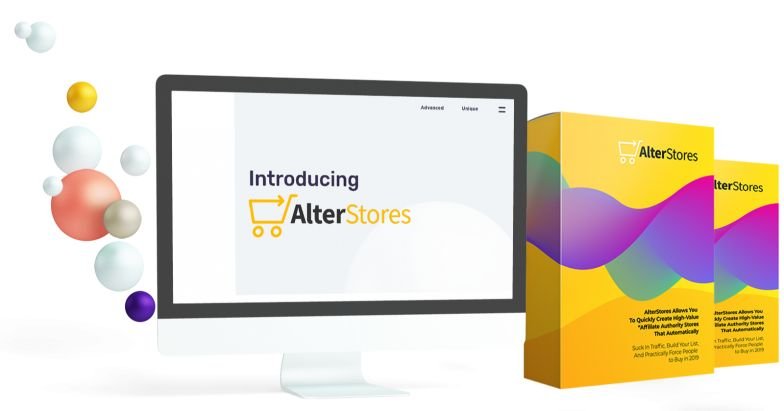 What is Alterstores?
AlterStores is a new cloud-based software that allows creating authority type affiliate e-commerce sites for Amazon, eBay, Best Buy and Walmart market places.
It pulls all the data from top e-commerce platforms and it imports all the products listings on your site.
Who can use this?
Affiliate marketing is one of the easiest ways to earn big commissions online. I have been in the affiliate marketing industry in the past 3 years. And I have made reasonable sales from Amazon, Click bank and JvZoo marketplaces.
If you want to earn affiliate commissions from top e-commerce sites like Amazon, eBay, Walmart, and Best Buy sites then you can have this software.
Is there any issue with AlterStores?
If you are a newbie and just going to sign up for the Amazon affiliate program, then you will not get any affiliate API keys and Secret keys right away.
If you don't know about Amazon API key and secret then I tell you in just a few lines. Amazon API key and Secret is provided by Amazon to every one of the affiliates in order to automate your affiliate store activities(Like pulling images, content and price data, etc.)
Getting an Amazon API key was extremely simple in the last couple of years. But now Amazon has changed a lot in it. You have to get manually approved from Amazon staffs to access this API keys.
If you are only focusing on Amazon affiliate marketing and if you already have an affiliate website with approved API keys then you can use this software without any issue.
If you don't have any Amazon API keys and secret keys then you can use this software to create sites for eBay, Walmart, and best buy programs. Once your site is ready, then you can apply for Amazon API keys in the future.
How does this AlterStores work?
Step 1: Enter your API keys in alter stores software settings menu.
Step 2: Connect your own domains or create a subdomain from the alter stores itself.
Step 3: Select any one of your created/connected sites and start importing products on each of those sites.
AlterStores will really deliver results?
Yes and no. There are many people already using software like this to pull data from Amazon, eBay and other e-commerce sites.
But the problem here is, all those store's content will look like same. There may be a chance of getting a content duplicate issue. Google doesn't like duplicate content.
So you have to spend some time to rewrite your website's contents a little bit to improve your search rankings. Basic keyword optimization should be done.
My final thoughts:
Though it creates easy affiliate e-commerce sites for Amazon, eBay, Walmart, you have to do basic keyword optimization to rank your sites well on Google.
Google will not rank your sites randomly because they want a quality site. Google loves authority type sites than regular sites. That is why most of the top ranking sites are authoritative sites.
AlterStores also create authority type affiliate sites but you have to look different from your competitors. Just go to Fiverr and find the best backlink service to get some high-quality links to your sites to boost your site rankings.
Buy a .com or .net or .org domains and point out the name servers to AlterStores. This way you can have your site with your own domain names. Google loves to rank custom domains than a subdomain. This will boost your SEO.
What do i like about AlterStores?
It builds affiliate sites for top 4 e-commerce giants.
You have the option to connect your own domain names with AlterStores.
Price drop notification to your subscribers.
Nice looking theme.
Price comparison feature to compare prices from all the 4 e-commerce sites. People will buy from their own preferred sits. But you will end making commissions.
They host all your sites on their servers.
Conclusion:
They have 30 days money back guarantee. If you don't like the software then you can their support system to get back your every single penny.
I hope you enjoyed my AlterStores review today and see you all on the next review. To subscribe to our list to get notified our honest reviews for latest internet marketing products. Thanks!