Clepher Review (Formerly Clever Messenger):
Chatbots have exploded in popularity in recent years. According to Grand View Research, the global chatbot market size is expected to reach USD 5,132.8 million in 2022. The market is projected to grow at a Compound Annual Growth Rate (CAGR) of 23.3% from 2023 to 2030. As more businesses realize the power of conversational marketing, the demand for chatbot platforms continues to grow.
But with so many options on the market, finding the right chatbot software can feel overwhelming. You want a platform that's affordable yet robust, easy to use yet powerful. This is where Clepher aims to stand out from the crowded field.
Clepher is an all-in-one chatbot creation and marketing suite designed to help businesses of all sizes leverage AI-powered conversational experiences. The platform allows you to build chatbots visually for top channels like Facebook Messenger and Instagram.
In this in-depth Clepher review, we'll dig into its key features, pricing options, pros and cons, and more. We'll provide an unbiased assessment of how Clepher stacks up to alternatives like ManyChat, MobileMonkey, and Chatfuel.
By the end, you'll have a clear picture of whether Clepher is the right choice for your business. Our goal is to arm you with enough information to make an informed decision about investing in this chatbot platform.
So if you're looking for an affordable, easy-to-use solution to take your conversational marketing to the next level, read on for the full Clepher review!
Overview of Clepher
| | |
| --- | --- |
| Product Name | Clepher |
| Product Creator | Stefan van der Vlag |
| Starter Price | $49/month |
| Bonus | Yes |
| Money Back Guarantee | Yes, Up to 30-days |
| Official Website | https://clepher.com/ |
| Product Category | SAAS/Chatbot |
| Recommended or Not | Highly Recommended |
Clepher is a relatively new platform, launched in 2019 (formerly Clever Messenger) by online marketer Stefan van der Vlag. It aims to make chatbot creation easy for anyone, even if you have no coding experience.
With Clepher, you can build chatbots for Facebook Messenger and Instagram and deploy them across multiple touchpoints. Its drag-and-drop Flow Composer allows you to automate conversations without headaches.
Other key features include:
Growth tools like chat widgets and QR codes to capture leads
Broadcast messaging to engage your audience
Third-party integrations with apps like MailChimp and Twilio
Audience segmentation and messaging personalization
In-depth analytics to track your bots' performance
Clepher markets itself as an all-in-one platform with everything you need to deploy chatbots. It promises to help entrepreneurs boost conversions, lower ad costs, and maximize profits.
🔥Clepher Special Deal🔥
$99 One-time
Regular Price: $399 (Use SPECIAL300 to take $300 OFF)
Key Features
Here are some of the standout features offered by Clepher:
Drag-and-Drop Flow Composer
Clepher's drag-and-drop Flow Composer makes it easy for anyone to build Messenger and Instagram bots without coding. You can create flows with text, images, buttons, and more to automate conversations.
Conditional logic lets you send messages based on user responses. It's a quick and simple way to set up chatbot conversations for lead generation, sales, support, and other uses.
Growth Tools
Clepher includes various tools to help you grow your audience and capture leads. These include chat widgets, QR codes, JSON ads, Instagram Story mentions, and more.
For example, you can add a chat widget to your website so visitors can start conversing with your bot. Or create scannable Messenger codes to transition people from offline to online.
Broadcast Messaging
With Clepher, you can send broadcast messages to all your bot subscribers on Messenger and Instagram. It's an easy way to engage your audience by sharing promotions, news, and other updates.
You get open and click-through analytics to see how your broadcasts perform. Compared to email, Messenger boasts up to 82% open rates for broadcasts.
Third-Party Integrations
Clepher integrates with 50+ third-party apps and services including MailChimp, Twilio, Calendly, Google Sheets, Slack, and more. These integrations allow you to connect your chatbots with tools you already use.
For example, you can capture subscriber emails in your bot then automatically sync them to your MailChimp list. Or have your bot make calls through Twilio when certain conditions are met.
Analytics & Insights
In-depth analytics help you track and improve your chatbots' performance. Clepher provides data on subscribers, messages sent, actions taken, entry points, and more.
Live chat and customer chat features let you see conversations as they happen. With audience segmentation, you can slice and dice your data to target subsets of users.
Clepher Pricing Plans
| Plan | Clepher Core | Clepher Pro |
| --- | --- | --- |
| Price | $49/mo or $199/yr | $99/mo or $499/yr |
| Chatbots | Unlimited | Unlimited |
| Channels | Facebook Messenger, Instagram | Facebook Messenger, Instagram |
| Broadcasts | Unlimited | Unlimited |
| Contacts | Up to 3,000 | Up to 10,000 |
| Drag & Drop Bot Builder | ✅ | ✅ |
| Growth Tools | ✅ | ✅ |
| 3rd Party Integrations | 50+ Apps | 50+ Apps |
| Live Chat | ✅ | ✅ |
| Analytics & Reporting | ✅ | ✅ |
| Audience Segmentation | ✅ | ✅ |
| Team Members | 1 | 5 |
| Page Templates | ✅ | ✅ |
| Zapier Integration | ✅ | ✅ |
| Opt-In Widgets | | ✅ |
| Checkbox Plugin | | ✅ |
| Facebook Comments Reply | | ✅ |
| Instagram Comments Reply | | ✅ |
| 220+ Bot Templates | | ✅ |
| Team Roles | | ✅ |
| Webhooks | | ✅ |
| API Access | | ✅ |
Some key differences:
Clepher Pro allows up to 10,000 contacts vs 3,000 on Core
Pro plan includes more advanced features like opt-in widgets, Instagram integration, 220+ templates, etc.
You can add more team members on Pro plan
Commercial use licensing only included in Pro plan
So Pro has higher limits and additional functionality for expanded chatbot capabilities. But Core still provides robust features for smaller needs.
🔥Clepher Special Deal🔥
$99 One-time
Regular Price: $399 (Use SPECIAL300 to take $300 OFF)
Getting Started with Clepher: What's the Learning Curve?
Clepher markets itself as an easy-to-use chatbot platform requiring no technical skills. The drag-and-drop Flow Composer does make building basic bots simple. You can launch a basic lead generation or sales bot without coding.
However, unlocking Clepher's full potential has a learning curve. Making the most of its automation features, conditional logic, broadcasting, and integrations requires time to master.
Relying solely on documentation and community support poses challenges for some users too. Factor in a time investment upfront to fully leverage Clepher's capabilities.
For pre-built templates and straightforward bots, the learning curve is minimal. But expect an adjustment period to grasp advanced functionality. Hands-on experimentation will help shorten the ramp-up time.
Clepher Pros and Cons
Pros
Here are some of the key advantages of using Clepher for your chatbot marketing:
Easy drag-and-drop bot builder – No coding required and fast setup for beginners
Messenger and Instagram support – Meet your customers where they are
High deliverability broadcast messaging – Achieve up to 82% open rates
300+ integrations – Connect with all your favorite marketing tools
Unlimited pages and flows – Use across all your Facebook and Instagram properties
Lifetime deal available – Lock in discounted pricing forever
30-day free trial – Test it out risk-free
Users praise Clepher for its ease of use, fast setup, and range of features at an affordable price. Even those with no prior experience can figure out how to create chatbots in minutes.
Cons
However, Clepher does have some downsides to consider:
Limited free plan – 30-day free trial but no long-term free tier
Steep learning curve for advanced features – Simple drag-and-drop builder but complex automations require time to master
Support focuses on docs/community – Not ideal if you want responsive 1-on-1 support
While the drag-and-drop editor makes bot building easy, unlocking the platform's full potential has a learning curve. And for a complex tool like this, not having direct support can pose challenges.
Its free trial is relatively short at just 30 days. For some, it may not provide enough time to fully evaluate the platform.
Who Is Clepher Best Suited For?
Clepher is an ideal chatbot platform if you:
Run a small or medium-sized business
Want to leverage Messenger/Instagram marketing
Have a limited marketing budget
Need an easy bot builder requiring no coding
Seek a comprehensive all-in-one chatbot solution
For larger companies, Clepher may not offer the enterprise-level features required. But for most small business owners, solopreneurs, marketers, and agencies – it packs a powerful punch.
With an easy drag-and-drop builder and range of marketing tools, it enables you to quickly deploy chatbots on Messenger and Instagram. If you want affordable access to conversational marketing, Clepher is a top contender.
Chatbot Use Cases
Clepher is flexible enough to support a wide range of chatbot use cases. Here are some examples of how businesses are leveraging it:
Lead Generation – Chatbots can ask questions to capture contact details like emails and phone numbers directly within the conversation. Integrations allow syncing these leads to email and CRM. Real estate agents use this to qualify buyers, lawyers to book consultations, and agencies to capture business inquiries.
Customer Support – Common questions can be handled automatically via chatbot. It can ask for order details from customers then provide shipping status, refund info, or other support needs 24/7. Ecommerce stores use this to resolve order issues and provide self-service options.
Appointment Booking – Healthcare providers, salons, mechanics and others are using chatbots to allow customers to book appointments or schedule calls conveniently inline. This eliminates phone tag and makes it easy to find a time.
HR Assistance – HR teams create chatbots on internal communication platforms to assist with common employee queries about payroll, time off requests, policy documents and more. It enables self-service for faster resolution.
Lead Nurturing – Chatbot conversations can guide leads through multi-step nurturing sequences with personalized content. Law firms may nurture potential clients over 2 weeks using a mix of email and chatbot touchpoints leading to a consultation.
Clepher Alternatives – Other Chatbot Platform Options
Clepher is far from the only chatbot platform available. Some top alternatives to consider include:
Depending on your needs and budget, these alternatives provide options beyond Clepher. Assess support channels, scalability, and ease of use when comparing.
How Does Clepher Compare to Other Chatbot Platforms?
Clepher competes with chatbot platforms like ManyChat, MobileMonkey, Chatfuel, and More. Here's how it stacks up:
Pricing – Clepher has affordable plans starting at $49/month. ManyChat and MobileMonkey have comparable pricing while Chatfuel is cheaper but more limited.
Features – Clepher holds its own with an easy builder, broadcasting, automation, integrations, and more. ManyChat has the edge in growth tools while Chatfuel lags in advanced features.
Support – Clepher focuses on docs/community support which may not suit all users. ManyChat has more live support while MobileMonkey relies on community help.
Ease of use – With its drag-and-drop builder, Clepher makes bot creation easy for all. But advanced options have a learning curve.
Overall, Clepher strikes a solid balance between features and affordability. ManyChat leads in some areas but costs more. For a simple and budget-friendly solution, Clepher is a strong contender in the crowded chatbot space.
Technical Requirements
Clepher has minimal technical requirements since it is a cloud-based SaaS platform:
An internet connection is needed to access the web dashboard. No downloads required.
You must have Facebook pages and Instagram business accounts already created to connect.
The platform is optimized for desktop but also accessible on mobile.
No coding is necessary. The drag-and-drop bot builder is visual and intuitive.
For SMS capabilities, you will need a Twilio account. Integrations handling this.
For some advanced features, installing Facebook pixels can help with tracking.
Should You Hire Clepher Chatbot Agency Services?
Clepher offers dedicated packages for agencies and chatbot professionals. These provide access to features like:
White labeling capabilities
Manage client accounts from a central dashboard
Invoice and bill clients
100+ ready chatbot templates to launch bots faster
Commercial licensing options
For agencies looking to profit from the chatbot gold rush by building Messenger and Instagram bots for clients, Clepher streamlines the entire process.
You can deploy chatbots for unlimited clients while maintaining brand control. With ready-made templates, quick setup, and easy customization, it takes the heavy lifting off your plate.
Compared to freelancing or outsourcing chatbot work, Clepher allows agencies to scale while keeping more profit in-house. It's worth exploring for any digital agency.
The commercial licensing also unlocks opportunities to resell chatbots as a service. If building a chatbot agency business model appeals, Clepher can accelerate your path to success.
What Others Say About Clepher?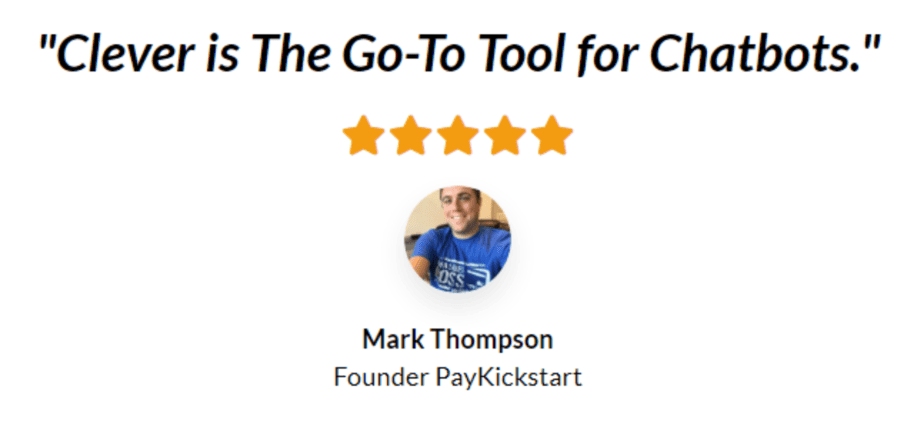 Clepher Review Conclusion
Clepher makes it simple for small businesses to leverage the power of conversational marketing. If you want an affordable, easy-to-use chatbot platform for Messenger and Instagram, it's a top choice.
Key strengths include its intuitive drag-and-drop bot builder, built-in growth tools, and range of integrations. With unlimited pages and flows, you can use Clepher across all your properties without paying extra.
Downsides to weigh include the short free trial period and lack of a long-term free plan. While launching basic bots is easy, mastery of its advanced features has a learning curve. And relying on docs and community for support isn't ideal for everyone.
But for beginners looking for an all-in-one chatbot solution to boost marketing without breaking the bank, Clepher hits the mark. Its lifetime deal provides a chance to lock in discounted pricing as well.
Overall, Clepher is a robust platform capable of delivering results – as long as you're willing to invest the time to learn its ins and outs. Try out its free trial to experience the interface and features firsthand.
🔥Clepher Special Deal🔥
$99 One-time
Regular Price: $399 (Use SPECIAL300 to take $300 OFF)
Frequently Asked Questions
Can I build a voice-enabled chatbot with Clepher?
No, Clepher does not currently support building voice-enabled chatbots. Its platform focuses on creating text-based conversational experiences through channels like Messenger and Instagram. However, some integrations allow you to connect voice capabilities. For example, you can use Clepher's Twilio integration to send pre-recorded voice messages or trigger phone calls from your bots. But native voice bot creation is not possible.
What ecommerce platforms integrate with Clepher?
Clepher provides integration with ecommerce platforms like Shopify and Woocommerce. This allows you to create shoppable bot experiences. For example, you can showcase product catalogs, take orders, facilitate payments, and more within Messenger or Instagram conversations. Additional ecommerce platforms will connect via Clepher's Zapier integration.
Can I offer human takeovers on Clepher bots?
Yes, Clepher facilitates hybrid chatbots by letting you take over automated conversations as needed. The platform's live chat and customer chat features allow you or your team to seamlessly communicate directly with users. So if your bot encounters questions it can't handle, agents can intercept and provide human support.
Does Clepher comply with GDPR regulations?
Yes, Clepher provides GDPR compliance tools as part of its platform. For example, you can erase or export user data upon request. Consent checkbox fields allow you to collect opt-in subscriber permissions. And the platform anonymizes user data after a set period of inactivity. This helps Clepher customers meet key data privacy requirements.
What Messenger features does Clepher support?
Clepher supports core Messenger features like sending text, images, video, files, templates, and more. You can build multi-step conversations using buttons, quick replies, user input fields, and conditional logic. Native Messenger elements like persistent menus, Get Started buttons, and Messenger codes are also available.
Can I offer a free trial bot with Clepher?
Yes, you can create free trial or freemium bot experiences with Clepher. For example, you may provide a limited bot experience for free that upsells to paid services. Or you could offer time-limited access to premium features before requiring users to subscribe. There are no platform restrictions on creating free trial or sample chatbots.
How long does it take to build a bot on Clepher?
For simple chatbots, expect only 10-15 minutes from start to finish on Clepher. The drag-and-drop Flow Composer and template library help accelerate bot building for basic uses. But advanced, multi-flow conversational experiences can take 1-2 hours to design thoroughly. Skill level will also impact time investments. Overall, Clepher provides one of the quickest chatbot setups among top platforms.
Clepher Bonuses
Here are some exclusive bonus offers available when purchasing through our link:
Chatbot Checklist – Make sure your bots are properly set up and converting.
Chatbot Zero to Hero Training – Step-by-step video course on generating leads and sales with Messenger/IG bots.
120+ Done-For-You Messenger Bot Flows – Proven high-converting flow templates to install with one click.
110+ Done-For-You Instagram Bot Flows – Optimized IG chatbot templates for more engagement and sales.
VIP Community Access – Join our Facebook group and network of Clepher (Clever Messenger) power users.
Personal Chatbot – Custom chatbot that represents and grows your business.
1200 Free SMS Messages – Kickstart your SMS marketing initiatives with free test credits.
Founding Member Status – Get recognized on the official Founders page for joining early.
Clever Lead Kit – Attract clients faster with done-for-you lead magnets, ads, and sales scripts.
Clever Agency Kit – Professionally brand your chatbot agency with custom templates.
Clever Agency Chatbot – Pre-built chatbot for selling your services around the clock.