Need to Sell PDFs but Afraid of Piracy?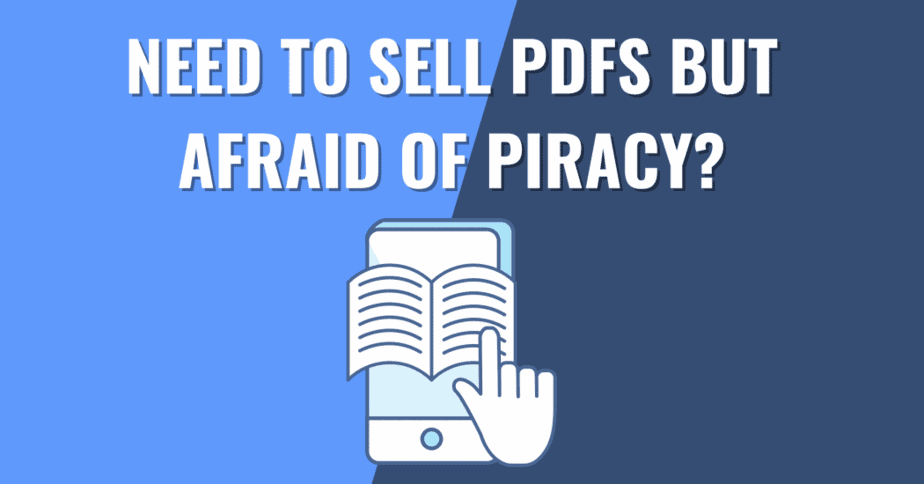 Creating an ebook or PDF became easy these days with latest software and tools like Sqribble.
But what about the piracy?
It's time to finally let the world know about the months and perhaps even years of working on your PDF ebook.
You're looking forward to launching it with great excitement, and based on initial reviews and feedback, you know for sure that it's heading to become a bestseller.
So you tie-up with an online distributor or ebook selling platform and begin selling it.
Unfortunately, you soon realize that not many are buying it. You wonder why.
When you search for your PDF ebook title on the search engine, hoping for positive reviews about it, you are shocked to see several websites are offering your book for free.
You immediately realize that you are now the victim of online piracy.
You find it difficult to digest that your hard work has been given away for free on dubious websites and P2P pages.
You feel discouraged about selling the ebook in the first place and now worry about dissuading the online pirates.
So what do you do about it? And can you even do anything at all?
Understanding ebook piracy
Ebook piracy is when your ebooks are made available for free and public consumption without your knowledge. This kind of piracy can take several different forms.
For instance, someone may have purchased your PDF ebook and shared it with their network. On the other hand, perhaps they may have done this innocently or deliberately.
Your PDF ebook may have been uploaded on a website or forum for others to download. This typically takes place on P2P websites and several such illegal websites online.
Your PDF ebook may be sold by someone else under their name and ownership without your permission.
This form of blatant stealing can rob you of all your revenue. Although it may not be a form of piracy, this kind of plagiarism and identity theft has been known to occur all too often.
Other forms of ebook theft
Another related issue when selling ebooks is individuals robbing your copyrighted work and claiming it as their own.
While this is not referred to as piracy, it can be highly detrimental to your source of income and reputation.
Besides, it's also entirely against the law as it becomes an infringement of your copyright.
There have been possibilities where individuals have stolen part of an author's work and integrated it with their own without the author's permission or even without acknowledging them. This is regarded as plagiarism.
In either of the above cases, authors can resort to legal protection.
But before you go so far, if you have yet to sell your PDF ebook and are worried about piracy operators eating into your revenue, there's help to the rescue in the form of digital rights management or DRM.
Combat ebook piracy with DRM
PDF digital rights management or PDF DRM is a proven solution for protecting your PDF ebook files.
With PDF DRM, you can restrict users from sharing and illegally forwarding your book.
PDF DRM is the only technology that prevents piracy. It's remarkably efficient in preventing individuals from copying content, downloading, forwarding or sharing it with those who have not paid for your work.
When you apply PDF digital rights management to your literary works, it means you are receiving complete controls over your digital material in protecting your works.
The right PDF DRM technology also employs dynamic watermarks that embed data in every downloaded ebook file in order to identify the individual buyer.
This form of dynamic watermarks could be a name, email address, or identifiable information that only the publisher or author can understand.
As a revenue protection system, PDF DRM is essential in protecting your profits and preventing illegal shares of your ebooks.
DRM works as an additional level of protection for your ebook and helps you in safeguarding your revenue.
With DRM protected ebooks, you can control who can view your book and who cannot.
It also allows you to define your ebooks lifecycle by letting you choose the expiry date of the book.
That means authorized readers or users cannot view the book after the expiry date.
In addition, you can prevent IPR theft with DRM as it allows you to monitor who has reviewed your PDF ebook and let you know if someone has tried to pass on the access to another person, allowing you to take immediate action and prevent theft.
Conclusion
Do not allow piracy to deter you from sharing your stories and literary works with the world.
Allow PDF DRM to eliminate the threat of ebook piracy and protect your revenue.
Make a living writing and selling ebooks with the assurance of PDF DRM protecting your copyrighted creation, providing you with the peace of mind to continue as an ebook writer.
FAQs
What is the best way to add DRM to an ebook?
Converting your ebook to a PDF and using Safeguard PDF DRM is the best way to add digital rights management protection. Safeguard PDF DRM is difficult to bypass or remove.
Should I have DRM on my ebook?
If you want to protect your ebook from piracy, it's a good idea to use DRM. However, it's important that you use a DRM solution that actually works. Unfortunately, this isn't the case for .epub, .azw, or .mobi DRMs. Instead, you should convert your ebook to PDF and protect it with Safeguard DRM ebook security.
Where can I sell my Safeguard-protected PDFs?
You can list them for sale on any retailer that allows it. Amazon likely won't let you list protected PDF files, but other retailers will. You can also sell them on your own website and use the e-commerce add-on to automate the process.
Where can customers read a Safeguard-protected ebook?
On a Windows, Mac OS, iOS, or Android device – as long as they're authorized to do so.