Hello and welcome to my Sellero review. My name is Partha, and I founded SPSReviews to provide trustworthy digital product reviews that help you grow your business.
Today, I'm excited to introduce you to Sellero, an e-commerce platform that revolutionizes your online selling. Sellero simplifies the process of creating and managing your online store, showcasing products, and streamlining sales operations. Its exciting features make Sellero a captivating tool for anyone who's looking to enhance their online business.
You might wonder if Sellero is worth the investment and can boost your online business. My Sellero review delves deep into how it works, its key features and benefits, pricing, OTOs, and the pros and cons. By the end of this comprehensive review, you'll know if Sellero is right for your online selling journey.
So, let's dive into the Sellero review and discover how it can transform your online business!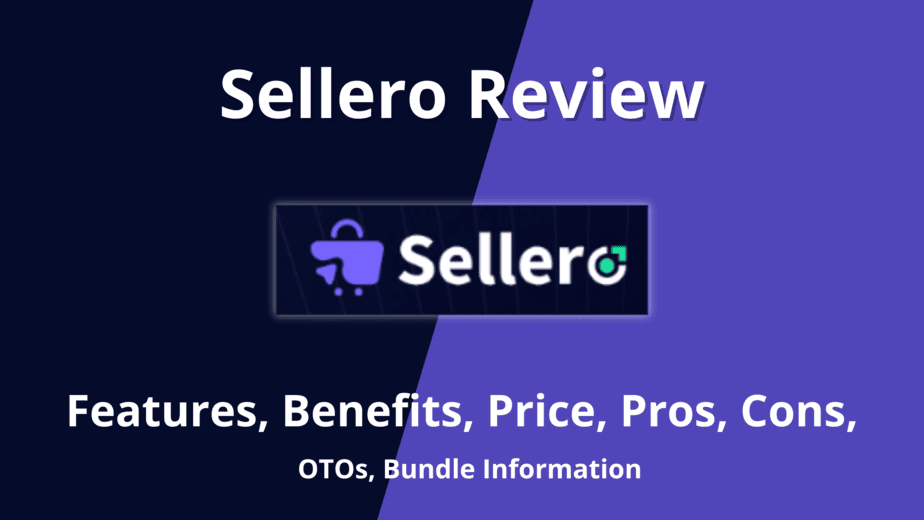 Sellero Review Overview
| | |
| --- | --- |
| Vendor: | Dr.Amit Pareek |
| Product: | Sellero |
| Launch Date: | 2023-Jun-12, 11:00 EDT |
| Front-end Price: | $37 |
| Recommendation: | Highly Recommended |
| Main Sales Page: | https://www.sellero.co/ |
| Bundle Page: | https://www.sellero.co/bundle |
| Support: | Friendly and Effective Response |
| Refund: | 30 Days Money Guarantee |
| Bonus: | Yes |
| Niche: | Software/Online Selling and Marketing |
Sellero Review: The Shorter Version (TL; DR)
Pros
Easy to use and launch products quickly.
Offers a wide range of features for online selling.
Provides ready-to-use products and a free commercial license.
Integration with popular payment gateways and platforms.
No monthly fees or commissions.
Good customer support and step-by-step training.
Sellero platform does not offer a free trial
Although optional, the upsells are incredibly useful, and unlocking them requires an additional fee.
The Resources – Sellero Bundle & OTO Links
Coupon Code: Get an extra $3 off on the front-end offer by using the Coupon Code "SELL3". For the bundle deal, use the Code "SELLERO" and enjoy $50 off. Don't miss out on these fantastic deals!
What Exactly is Sellero?
Sellero is an all-in-one online selling platform that allows you to launch your courses, services, or any purchased agency/PLR (Private Label Rights) right product in just a few minutes, without any technical hassles or monthly fees.
It provides 100+ battle-tested templates to build high-converting and fast-loading landing pages, optimized for mobile devices. With Sellero, you can create stunning websites, e-stores, and membership sites easily. It also offers smart checkout links to get orders directly from social media, emails, or anywhere else. Additionally, you can sell high-demand services with the included commercial license. To learn more about Sellero and its features, continue reading my Sellero review below.
Sellero is capable of helping you unleash your marketing potential by providing ready-to-use products, membership sites, website and marketplace creation, smart checkout links, precise analytics, SEO-friendly pages, and more. It is a cloud-based platform that requires no domain, hosting, or installation. You can easily create and manage unlimited products, accept payments through PayPal and Stripe with zero fees, and integrate with popular tools and autoresponders.
Sellero also offers a drag-and-drop WYSIWYG page editor for customization without any designing or technical skills. It provides step-by-step video training, tutorials, and 24/5 customer support to assist you. With a free commercial license included and a low one-time price, Sellero is a comprehensive solution for entrepreneurs, marketers, and newbies to start their online selling business and tap into the growing e-commerce industry.
Continue reading my Sellero review below to discover how it can help you maximize your sales, profits, and online presence.
How Does Sellero Work?
Sellero is an all-in-one platform designed to help entrepreneurs, marketers, and online business owners easily create, manage, and sell digital products, courses, services, and physical goods. It provides a seamless and hassle-free solution for launching and profiting from your own or purchased agency/reseller/PLR (Private Label Rights) products.
Here's how Sellero works:
Step 1: Add a Product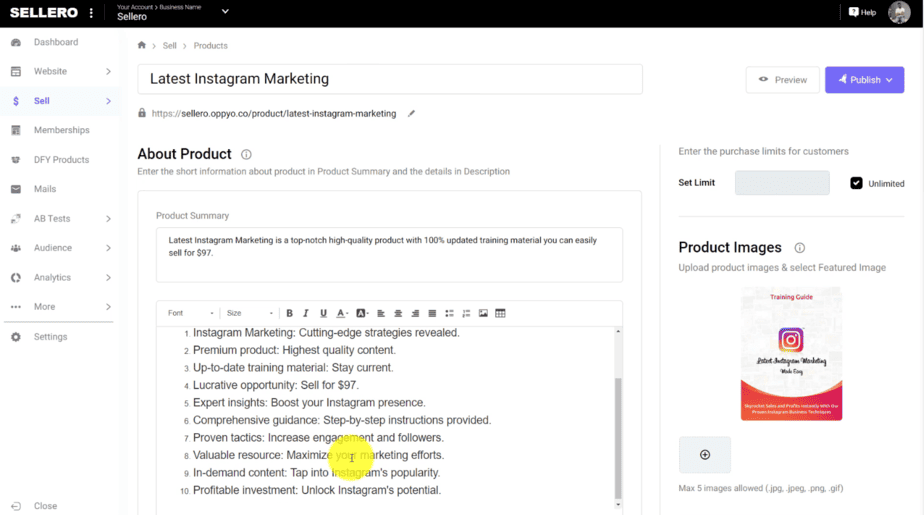 With Sellero, you can unlock the potential of your purchased agency/reseller/PLR products, your own creations, or choose from the preloaded 20+ done-for-you products. This step allows you to quickly set up and start selling your products.
Step 2: Choose a Payment Gateway
Integrate your PayPal or Stripe account with Sellero to receive payments directly into your account. Sellero also offers seamless integration with other popular platforms like JVZoo, ClickBank, and WarriorPlus. This ensures smooth and secure transactions with your customers.
Step 3: Publish & Profit
After setting up your product and payment gateway, you can get your smart checkout link. This link allows you to start receiving orders on your product pages, social media platforms, and emails. Sellero provides you with a professional website and smart checkout options to enhance your selling experience.
Meet the Creator of Sellero
Dr. Amit Pareek stands out as a prominent figure within the Internet marketing industry, renowned for his exceptional expertise in product launches and groundbreaking digital solutions. With a wealth of experience as an entrepreneur and online marketer, Dr. Amit Pareek has consistently developed and introduced a series of highly successful products on esteemed platforms such as JVZoo.
These are some of the successful products of Dr. Amit Pareek: VidHostPro, Trendio, Agenciez, MyIMUniversity, Smarketo, MaxMailz, Kaptiwa, myIMUniversity 2.0, MaxFunnels 2.0, Coursova, NinjaKash, and numerous others. His offerings consistently address the common challenges faced by online marketers and entrepreneurs, empowering them to attain unparalleled success in their digital ventures.
The Top Features and Functionalities of Sellero
Experience the Power of Cutting-Edge Technology
Sellero leverages state-of-the-art technology to streamline the process of launching courses, agency services, or any purchased PLR/Resell right product. Say goodbye to technical hassles and monthly fees, as Sellero empowers you to get your products and services online quickly and effortlessly.
Effortlessly Launch Your Products & Services Online
Sellero is your ultimate solution for effortlessly launching your own products and services online, as well as those of your clients. Bid farewell to technical complexities, as Sellero takes care of the entire process, allowing you to focus on maximizing sales and profits for both yourself and your clients.
Maximize Profits with Agency/Reseller/PLR Right Products You've Purchased
Unleash the full potential of your agency, reseller, or PLR rights products with Sellero. It equips you with the tools and features needed to effectively monetize these products, generating recurring profits effortlessly. Leave behind the need for extensive technical knowledge or expertise, and start profiting today.
Create Stunning Websites, E-stores, and Membership Sites with Ease
Sellero empowers you to create visually stunning and fully functional websites, e-stores, and membership sites. Customize these platforms to align with your brand and business requirements, captivating customers and skyrocketing your sales.
Your Own Marketplace, Your Complete Control, and 100% Profits
Sellero grants you the freedom to sell your products on your very own marketplace. Enjoy complete control over your sales and retain 100% of the profits, without the burden of commissions or fees. It's time to maximize your earning potential.
Streamline Purchasing with Smart-Checkout Links from Anywhere
Experience the convenience of Sellero's smart-checkout links, allowing you to receive orders directly from social media platforms, emails, or any other online channels. Simplify the purchasing process for your customers and witness a boost in conversion rates.
Sell High-Demand Services with the Included Commercial License
With Sellero's included commercial license, capitalize on high-demand services. Utilize this license to offer your services to local businesses, unlocking additional income streams and expanding your entrepreneurial horizons.
Effortlessly Add Products with Sellero's Intuitive Interface
Sellero's intuitive interface makes adding products to your online selling platform a breeze. Whether you're selling your own creations or selecting from the 20+ done-for-you products offered by Sellero, the process remains straightforward and hassle-free.
Choose Your Preferred Payment Gateway with Ease
Integrate your PayPal or Stripe account seamlessly with Sellero, ensuring hassle-free payments from your clients. Enjoy the flexibility of selecting your preferred payment gateway and streamlining your transaction process. Sellero also offers seamless integration with other platforms such as JVZoo, ClickBank, and WarriorPlus.
Publish and Reap the Profits
Once you've added your product and set up your payment gateway, Sellero provides you with a smart checkout link and a professionally designed live website. Start receiving orders effortlessly on product pages, social media platforms, and emails. With Sellero, selling online becomes quick and easy.
The Ultimate All-in-One Online Selling Platform
Sellero stands as the complete, all-in-one online selling platform designed specifically for entrepreneurs, marketers, and beginners alike. With a wide range of features and functionalities that cover every aspect of the selling process, from product creation to customer management, Sellero has got you covered.
Precise Analytics for Informed Decision-Making
Sellero equips you with precise analytics to measure the performance of your online selling activities. Gain clear insights into what's working and what's not, empowering you to make informed decisions and optimize your strategies for maximum success.
SEO Friendly and Social Media Optimized Pages
Enhance your online visibility and drive more traffic to your products and services with Sellero's SEO-friendly and social media-optimized pages. Increase your chances of making sales and establish a powerful online presence with ease.
Sellero vs Other Tools – A Comparison
Sellero Compatibility, Licensing & Usage Rights
Compatibility
Sellero is a versatile web-based platform that seamlessly works with the most popular modern web browsers, including Chrome, Firefox, Safari, and Edge. It is designed to be compatible with various operating systems such as Windows, macOS, and Linux. Moreover, Sellero ensures a smooth user experience on smartphones and tablets through its mobile compatibility.
Licensing
With Sellero, you can enjoy the convenience of a one-time payment pricing model. Instead of dealing with recurring monthly charges, users simply pay a single fee to gain access to the platform and its exceptional features. Once you've made your purchase, you will receive a complimentary commercial license. This license allows you to either use the software for your own business or set up stores for your clients as well.
Usage Rights
Sellero enables users to monetize PLR products, their own creations, or the preloaded 20+ done-for-you products. Users can also sell their products on a dedicated marketplace and keep 100% of the profits.
How Sellero Can Benefit You and Your Business?
Sellero Pricing and OTOs
The core product of Sellero is the Sellero commercial, priced at a one-time cost of $47. Post purchasing the front-end offer, multiple upsells or OTOs will be suggested to you.
Sellero upsells are optional and not required to use the main features (front-end) of Sellero. However, they do offer advanced features that may be useful. Incorporating them can boost Sellero's functionality.
Let's take a look at what the Sellero upsells are offering.
Sellero Funnel
Price
Features
Front-End (FE)
$37
– Create up to 10 or 50 businesses/domains
– 1,00,000/unlimited visitors per month
– Sell unlimited products: digital products, physical goods, courses, and services
– Quick start with 40+ done-for-you products
– Create and manage 100/unlimited products
OTO1 – Sellero Elite
$97
– Create unlimited businesses/sub-domains
– Unlimited custom domains
– Serve unlimited clients
– Unlimited bandwidth and storage for hosting
– Generate unlimited leads
– Unlimited websites, stores, and membership levels
OTO2 – Sellero Enterprise
$67-$97
– Send unlimited emails
– Advanced follow-up email journey
– Built-in text and inline editor
– 50+ mobile-friendly lead pages, popups, and email templates
– Advanced spam checker
– CRM integrations
– Personalization of emails
OTO3 – Sellero Agency
$47-$97
– Agency license to serve up to 100/unlimited clients and add up to 100/unlimited team members – Biz management panel
– Subscription management system
– Chat support directly from the software
OTO4 – WriterArc Unlimited
$97
– Create content for any local or online business
– Preloaded with 50+ copywriting templates
– Supports 35+ languages and 22+ tons of writing
– Free commercial license
OTO5 – Premium Membership
$77-$697
– Premium Membership offers unlimited businesses, landing pages, sales funnels, personalized notification campaigns, customizable templates, secure file storage, and lead monitoring for a monthly price of $77 or a one-time price of $697.
Sellero Bundle
Varies
This is a package that includes both the Front-End (FE) and all the OTOs for a discounted price.
Sellero Bundle Information
When it comes to purchasing Sellero upsells, you have two options. After purchasing the front-end offer, you can either buy Sellero OTOs individually or save money by purchasing the Sellero bundle deal. The Sellero Bundle is an exclusive one-time offer that costs $297 and includes the front-end offer and all Sellero upsells.
Coupon Code: Get an extra $3 off on the front-end offer by using the Coupon Code "SELL3". For the bundle deal, use the Code "SELLERO" and enjoy $50 off. Don't miss out on these fantastic deals!
Sellero: Who Should Use It?
Continue reading my Sellero review to learn more.
What Users Are Saying About Sellero?
Pros and cons
Pros
Easy setup and user-friendly interface, no technical skills required.
Cost-effective solution with one-time pricing, eliminating recurring fees.
Extensive customization options to match branding and unique requirements.
Wide range of preloaded products to jumpstart selling immediately.
Advanced marketing tools for lead generation, email campaigns, and SEO optimization.
Secure and GDPR-compliant infrastructure with SSL encryption.
Responsive customer support and regular updates to enhance functionality.
Cons
The Sellero platform does not offer a free trial
Although optional, the upsells are incredibly useful, and unlocking them requires an additional fee.
Alternatives to Sellero
ClickFunnels
ClickFunnels is a comprehensive sales funnel builder that enables you to create stunning websites, landing pages, and sales funnels quickly and easily. It offers seamless integration with payment gateways like PayPal, Stripe, and more. With ClickFunnels, you can sell your own products or use their pre-designed templates to get started. It also provides analytics, so you can measure performance and optimize your sales funnels.
Features:
The intuitive drag-and-drop funnel builder
Seamless payment gateway integration
Pre-designed templates to jump-start your sales funnel
Performance monitoring with analytics and split testing
Tools to create membership sites
Email marketing integration
Teachable
Teachable is an easy-to-use platform designed for creating and selling online courses. It provides a user-friendly interface and allows you to create professional-looking course websites with built-in payment processing. Teachable features course hosting, multimedia content support, discussion forums, and progress tracking. Email marketing tools integration and in-depth analytics complement Teachable.
Features:
Course creation and hosting
Robust payment processing
Multimedia support, including videos and quizzes
Discussion forum functionality to encourage student interaction
Tracking of student progress and issuing certificates
Email marketing integrations
Shopify
Shopify is a popular e-commerce platform that empowers you to create online stores and sell physical and digital products. It offers a wide range of customizable templates, a built-in cart system, and seamless integration with popular payment gateways like PayPal, Stripe, and more. Shopify provides inventory management, order tracking, and marketing tools to help you grow your online business.
Features:
E-commerce store creation
Customizable templates and personalized theme design
Built-in cart system
Payment gateway integration
Inventory and order management
Marketing and SEO tools to expand your online presence
Why Choose Sellero?
Real Results: Sellero has helped countless entrepreneurs achieve remarkable success in their online businesses. Don't just take our word for it—check out the inspiring customer testimonials and case studies that showcase how Sellero has transformed its selling journey.
Credibility and Trust: Sellero is trusted by industry leaders and experts for its reliability and performance. With a track record of successful product launches and a creator, Dr. Amit Pareek, renowned for his groundbreaking digital solutions, Sellero stands tall as a top-tier e-commerce platform.
Limitless Potential: Sellero offers unlimited possibilities for growth. From ready-to-sell products to customizable templates and design options, Sellero empowers you to create a unique and engaging online presence. With its marketing and automation tools, you can scale your business and build lasting customer relationships.
Value for Money: Sellero is an affordable solution that provides exceptional value for your investment. Unlike platforms with recurring monthly fees, Sellero offers a one-time payment pricing model. You'll gain access to a wealth of features, resources, and future updates without breaking the bank.
Now let's move on to the next section of my Sellero review to learn more about Sellero through the frequently asked questions.
Sellero Review – Frequently Asked Questions
Is Sellero compatible with both Windows and Mac?
Yes, Sellero is fully compatible with both Windows and Mac operating systems. As mentioned earlier, Sellero is a web-based solution that operates directly on the web. It works seamlessly across all browsers and devices, providing a consistent experience for all users.
Do I need to download or install Sellero anywhere?
No need! Simply create an account online, and you can start using Sellero right away. Sellero is a 100% web-based platform hosted on the cloud. This means you never have to download anything. It works seamlessly on all browsers and devices, including both Windows and Mac.
Can I sell my products without a website?
Yes! With Sellero, you don't need to worry about building your own website. You can create beautiful online stores, websites, and membership sites quickly and easily using our built-in drag-and-drop editor. Start selling your products directly and make profits in no time.
Can I use Sellero to sell my online courses and offer personalized coaching?
Definitely! Sellero is a comprehensive solution for selling digital products and services. You can create and manage online courses, set pricing, and deliver content to your students through a secure membership area. Moreover, you can offer personalized coaching sessions as an upsell to your courses. It's the perfect platform for sharing your expertise and generating income.
Can Sellero help me launch my own online art gallery?
Absolutely! With Sellero, you can create a stunning website to showcase and sell your artwork online. You can easily upload images, set prices, and manage your inventory. Sellero provides an excellent opportunity for artists to reach a wider audience and monetize their creations.
Does Sellero help me manage my customer contacts?
Absolutely! Sellero has an inbuilt lead management system that enables you to manage your customer contacts effectively. You can categorize your leads and easily engage with them, ensuring that you never miss an opportunity to make a sale. With Sellero, you can build strong customer relationships and drive repeat sales.
Sellero Review – Is Sellero Worth Buying?
Let's talk about value for money with Sellero. For just $37, this platform offers extensive features that make it a steal. With Sellero, you can create up to 10 or 50 businesses/domains, take in unlimited visitors per month, and sell multiple products like digital products, physical goods, courses, and services. That's not all – they'll even provide you with 40+ done-for-you products to kickstart your selling journey.
Sellero's drag-and-drop page editor makes it easy to create websites, fast-loading landing pages, and membership sites for secure product delivery. Payments through PayPal and Stripe are also easy, and there are no additional fees. Sellero even provides smart-checkout links for easy payment processing.
Lead generation and management are also major selling points of Sellero. You can generate and manage up to 10,000 leads and then integrate with over 20 autoresponders for automated email campaigns, ensuring effective communication with your customers.
Regarding security and compliance, Sellero goes the extra mile. They provide 128-bit SSL encryption for maximum security, and they are GDPR and CAN-SPAM compliant, ensuring that your customer's data and privacy are always secure.
Considering all these factors, it's worth believing that Sellero is worth every penny. With Sellero, you can certainly tap into the e-commerce potential and start generating significant income from your online business. Don't miss this opportunity where you can simplify your online selling journey and maximize your profits with Sellero.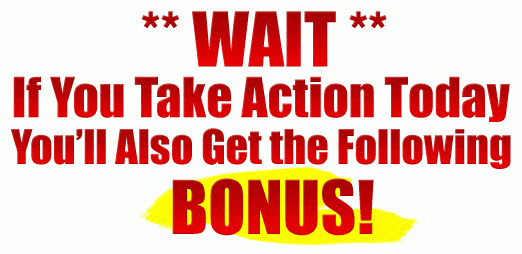 Sellero Bonuses
Now let's see what bonuses you will get if you become a user of Sellero today!
If you decide to purchase Sellero through my link, click on any of the buttons on this page and you'll get all the bonuses (which are listed below) for free.
Once you get Sellero through my link, please email me at bonus.spsreviews@gmail.com and I'll be sending out my bonuses within 24 hours.
So don't forget to check out my Sellero review bonuses – they will save both your time and money while helping you make the most of your experience with Sellero.
Bonus 1: 1 on1 Support From Me
If you have any questions regarding Sellero, I am here to help. I have extensive knowledge and experience in this field, so please do not hesitate to reach out to me with your queries. I will be able to provide you with detailed responses that include facts and figures, as well as advice on best practices. My aim is to ensure that you are completely informed and comfortable when making decisions related to Sellero. Since I am a full-time blogger, I am available 24/7, so please do not hesitate to contact me (I will give you my Skype ID) whenever you need assistance. I look forward to being an invaluable resource for all your Sellero needs.
Bonus 2: I will Find You a Discount For Your Next Purchase
As a special bonus of Sellero I will go the extra mile and put in extra effort to find you the best-discounted price possible for your next product purchase. With years of experience in this digital product review space, I have a vast knowledge of many vendors and marketplaces for different products. When you choose to purchase Sellero through my link, I will scour the internet and explore every nook and cranny to locate any potential discounts that are available. If you plan on buying any other tools or products in the future, feel free to reach out to me prior to committing to a purchase. I am more than happy to dedicate time and energy to researching all available deals so that you can get your money's worth! This is my appreciation for trusting me and buying Sellero through my link.
Sellero Additional Bonuses:
SEE ALL MY BONUSES
Here is how you can claim my bonuses:
Step 1: CLICK HERE or any one of the above/below buttons to get Sellero from the official website (If you have already ordered skip this step).
Step 2: Submit your payment receipt to my email id (bonus.spsreviews@gmail.com). You will get all my bonuses to your email id within 12 hours.