Get an UpViral lifetime discount on the Business plan subscription. This offer is exclusive to spsreviews.com readers.
Save up to $571 and lock in that yearly discount permanently for the lifetime of your subscription.
With an UpViral Lifetime Deal (Business subscription), you'll also get access to all the features that "Business Plan" subscription offers plus, bonus features such as the Viral Hacking Masterclass, +40 in-depth case studies, and collect up to 50,000 leads (instead of 25,000 which is priced at $89/month normally) 12-month access to UpViral, and more for only $497.
You can upgrade/downgrade/cancel your UpViral account anytime. You can also get a refund if you cancel during the first 14 days.
Deal: a discount of up to $571 yearly for a lifetime
Coupon Code: Auto-applied to my link
Are you looking for an UpViral lifetime deal? If so, then you've come to the right place.
In this blog post, I will show you how to get the UpViral Lifetime Deal, which is exclusive to readers of my blog spsreviews.com.
And I am going to compare the other plans of UpViral to provide a clear insight into the value you can get from the Lifetime deal.
By end of this blog post, I am sure you will have a clear picture and be able to decide which plan is best for you.
UpViral Lifetime Deal Brief
You can get the UpViral lifetime deal benefits if you pick up the "UpViral Business Plan Yearly" subscription.
By doing so you lock in a 53.46% permanent discount for the lifetime of your subscription.
Here's how much you pay per year by choosing different paid UpViral subscriptions:
Starter: $1 to access, then $59/month (paid annually), includes unlimited campaigns and 10,000 leads with 1 brand, UpViral branding, and email support.
Business: $1 to access, then $89/month (paid annually), includes unlimited campaigns, 25,000 leads with 3 brands, restrictions by location and A/B split testing with API + Zapier and email support.
Premium: $1 to access, then $219/month (paid annually), includes all business features plus unlimited campaigns and 100,000 leads with 10 brands plus priority support.
| UpViral Plans | Monthly Price | Yearly Price | Yearly Discount |
| --- | --- | --- | --- |
| Starter | $59 | $708 ($59 x 12) | N/A |
| Business | $89 | $1068 ($89 x 12) | N/A |
| Premium | $219 | $2628 ($219 x 12) | N/A |
As you can see there are no discounts on any of the regular subscription plans.
UpViral Lifetime Deal vs. Subscription: A Quick Comparison
Now let's see how much the UpViral Lifetime Deal on business plan saves you.
| Feature / Plan | UpViral Business Plan Regular Subscription | UpViral Business Plan Lifetime Deal |
| --- | --- | --- |
| Price | $1,068/year (after a $1 trial for 14 days) | $497/year permanently for lifetime of your subscription |
| Future Payments | $1,068 each year, starting in 14 days | $497 each year |
| Trial Period | $1 trial for the first 14 days | None |
| Campaigns | Run Unlimited Campaigns | Run Unlimited Campaigns |
| Leads | 25,000 Leads | 50,000 Leads |
| Brands Management | Manage 3 Brands | Manage 3 Brands |
| Location Restriction | Yes | Yes |
| A/B Split Testing | Yes | Yes |
| API + Zapier | Yes | Yes |
| Email Support | Yes | Yes |
| Bonus Features | None | Viral Hacking Masterclass, +40 in-depth case studies, 12-month access to UpViral Business and permenant price of $497/year for lifetime |
Now let's do a cost comparison to see how much customers can potentially save with the UpViral Lifetime Deal.
How Much You Could Potentially Save With UpViral Lifetime Deal?
UpViral Business Plan Regular Subscription cost for 1 year = $1,068
UpViral Business Plan Lifetime Deal cost per year = $497
Potential savings: $1,068 (Regular Subscription) – $497 (Lifetime Deal) = $571
Customers can potentially save $571 per year by opting for the UpViral Business Plan Lifetime Deal instead of the Regular Subscription.
Not only that, but the Lifetime Deal also offers added value with 50,000 leads instead of 25,000, access to the Viral Hacking Masterclass, +40 in-depth case studies, and 12-month access to the UpViral Business platform making it an even better investment.
So, with a higher semantic richness, I can confidently conclude that the UpViral Lifetime Deal provides a superior cost-effective solution to customers, allowing them to reap bigger benefits and save more money in the long run.
How to Get UpViral Lifetime Deal (Tutorial)?
Here is the step-by-step guide to getting an UpViral lifetime deal.
Step 1 – Find My Exclusive Link:
To access the UpViral Business Plan Lifetime Deal, you'll need to use my special link which gives you a discounted rate and additional benefits. This offer is exclusive to my audience, and clicking on this link guarantees your access to the lifetime deal.
Step 2 – Click the Link:
Once you've found my exclusive link, simply click on it to be redirected to the sign-up page with the Lifetime Deal offer. Keep in mind that this deal is only available by clicking on my link, so ensure you're on the correct page for the lifetime benefits.
Step 3 – Review the Offer: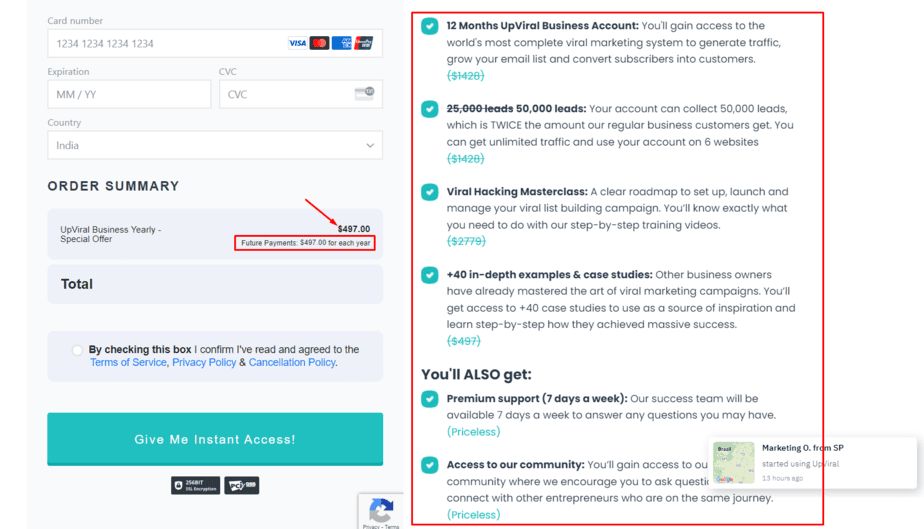 Upon reaching the sign-up page, take a moment to review the benefits of the Lifetime Deal. At just $497 per year, you'll receive access to the UpViral Business Plan with 50,000 leads, the Viral Hacking Masterclass, and over 40 in-depth case studies, among other valuable features.
Step 4 – Sign Up for the Lifetime Deal:
Proceed with the sign-up process by providing your personal and credit card information. Since this deal does not have a $1 trial for 14 days, your card will be charged $497 for your first year right away, and you'll gain immediate access to the UpViral platform and all its features.
Step 5 – Enjoy Lifetime Benefits:
Once you've completed the sign-up process, enjoy the full benefits of the UpViral Business Plan Lifetime Deal, knowing that with each renewal at only $497 per year, you'll continue to receive the same access and benefits for the lifetime of your subscription.
Remember, this lifetime deal is only possible by clicking on my exclusive link, so share it with your network and help others take advantage of this fantastic offer.
The Pros and Cons of UpViral Lifetime Deal
Pros
The availability of a $1 trial for 14 days allows users to test the platform before committing to a subscription.
The regular subscription plan includes the ability to run unlimited campaigns, allowing businesses to experiment with multiple marketing strategies.
The lifetime deal upgrades the number of leads from 25,000 to 50,000, providing businesses with more potential customers to engage with.
Managing 3 brands under a single subscription enables better organization and cost-efficiency for business owners with multiple ventures.
The ability to restrict campaigns by location helps target relevant audiences and improves marketing effectiveness.
A/B split testing allows users to optimize campaigns by comparing the performance of multiple variations.
Integration with API and Zapier ensures that the platform can be easily connected to various other software and tools, increasing its utility.
Email support provides prompt assistance to users, addressing any technical issues or concerns.
Lifetime deal offers access to the Viral Hacking Masterclass, providing users with valuable insights on creating successful viral campaigns.
Access to 40+ in-depth case studies helps users learn from real-life examples of successful campaigns, improving their own strategies.
Cons
No trial option is available for the lifetime deal, making it a leap of faith for users who are unsure about committing.
The increased lead capacity in the lifetime deal is only accessible after purchasing.
Testimonials: What Real Users Have to Say About UpViral
UpViral helps people who want to get more followers on email, SMS, or social media. It helps people make campaigns and pages. UpViral also helps people tell others about their stuff without spending too much money. It has step-by-step guides and templates that can help you use it easily. Many people say UpViral is a helpful tool for growing an audience in a cool way.

What is UpViral and What it Does do?
UpViral is an innovative cloud-based referral marketing solution that enables businesses to effortlessly harness the power of word-of-mouth advertising by creating and managing viral contests and promotional campaigns. By offering attractive incentives like coupon codes and rewards, UpViral encourages customers to refer their friends and family to a business's website or social media page, exponentially increasing the company's reach and potential customer base.
Here's how UpViral works in three simple steps:
Step 1: Design and Create Your Campaign
To get started with UpViral, businesses need to design their viral contests, giveaways, or referral programs to align with their brand messaging and desired results. UpViral's user-friendly interface makes it easy to customize campaign visuals, choose various templates, set up contest rules, and select reward types like percentage discounts, freebies, or exclusive access to content. This step also includes integrating your campaign with relevant landing pages, email marketing tools, and social media platforms for seamless customer experience and data tracking.
Step 2: Launch and Promote Your Campaign
Once your campaign is designed and set up, it's time to launch and promote it to your target audience. You can leverage UpViral's built-in promotional tools like email invitations and social media sharing options to encourage your existing customers or followers to participate in the contest or promotion. By offering a compelling incentive for referrals, you effectively create an incentive-based tier system that motivates people to spread the word about your brand in exchange for a reward. This endorsement from existing customers acts as social proof and encourages more new visitors to check out your business.
Step 3: Analyze and Optimize Your Campaign
UpViral provides comprehensive real-time analytics and reporting tools enabling businesses to closely monitor their campaign performance, referral rates, and new leads. Depending on the metrics and insights garnered from this data, you can fine-tune the various elements of your campaign to maximize customer engagement, referrals, and ultimately, your return on investment. You can also segment your audience based on their referral and participation patterns, allowing you to tailor your future marketing efforts to cater to their preferences and behaviors.
UpViral provides businesses of all sizes and industries with customizable, interactive campaigns, sophisticated incentive systems, and comprehensive analytics capabilities to help build their audience base, strengthen brand recognition and bolster customer loyalty.
Main Features and Benefits of UpViral
Incredible viral campaigns for every occasion: UpViral allows businesses to create a tailor-made viral campaign for various events, product launches, or special occasions. Whether it is a holiday sale, a new product release, or an exclusive giveaway, UpViral ensures maximum reach and engagement among the target audience.
UpViral Rewards System: The platform offers a comprehensive rewards system, enabling businesses to offer incentives such as coupon codes, exclusive access, and giveaways to their customers for referring others. This in turn leads to a wider audience reach and the possibility of exponential growth.
Build a huge buzz with UpViral's sweepstakes: Sweepstakes campaigns have a proven track record of generating excitement and buzz, and UpViral's advanced features make it incredibly easy to set up, monitor, and manage successful sweepstakes.
Proven Sweepstakes Icon and Proven Sweepstakes: UpViral combines exclusive icons and designs with proven sweepstake campaign strategies, boosting brand visibility and increasing the chances of conversions.
Mix & Match Icon and Smart Leaderboards Icon: Customize your campaign with UpViral's versatile mix-and-match icons, and keep the competition interesting with innovative smart leaderboards. This encourages participants to stay engaged and actively refer more people.
A Complete Reward System and Unlockable Milestones: UpViral's reward system not only offers enticing incentives but also includes unlockable milestones that encourage users to complete certain tasks in exchange for rewards. This gamification element drives engagement and keeps users interested in promoting the business.
Stimulate rapid business growth: The built-in tools and features of UpViral are designed to drive traffic to the business and generate significant growth in a short amount of time.
Share Anywhere and Weighted Social Actions: UpViral enables effortless sharing of the campaign across various social media platforms, while also offering weighted social actions that assign different point values to different social media activities.
Optimized for Facebook & Twitter and Open Graph Optimization: UpViral's campaigns are specifically optimized to integrate seamlessly with Facebook and Twitter, ensuring maximum exposure and engagement. Open Graph Optimization further enhances the campaign's visibility on social platforms.
Unique Tracking System: UpViral's advanced tracking system enables users to monitor campaign performance in real time and measure the effectiveness of their referral strategies.
Fully Automated Viral Campaigns: With UpViral's automation features, businesses can set up and manage their viral campaigns with minimal effort, while still achieving maximum results.
Auto-Select Winner At Random Icon and Auto-Select Winner Based On Points: UpViral offers users the option to choose a random winner or select one based on points accumulated through the referral system, ensuring fairness and promoting healthy competition among participants.
Auto-Send Prize and Reward Notifications: This feature ensures that participants receive timely updates on their progress and status in the contest. UpViral sends automated notifications to inform users when they've unlocked new rewards, won prizes or earned additional entries. This keeps participants engaged and motivated while reducing the need for manual notifications from the business.
Automatically Award Prizes: UpViral allows businesses to automate the process of awarding prizes to contest winners. Businesses can set predefined criteria for prize allocation, ensuring fair and unbiased distribution while reducing time and resources spent on manual prize management.
Automated Campaign Scheduling: UpViral enables businesses to schedule and launch marketing campaigns effortlessly. Users can predefine the start and end times for their campaigns, allowing for better planning and execution of marketing strategies.
Handpicked Winners: Businesses can manually select winners for specific contests or rewards, allowing for targeted and strategic prize allocation. This feature enables customization and control over winner selection, ensuring that the right people receive the appropriate incentives.
Welcome Email: UpViral sends an automatic welcome email to new subscribers, providing a warm welcome and increasing engagement right from the start. These emails can be easily customized to suit the brand image and tone.
New Subscriber Email: UpViral keeps users informed of new subscribers who join the referral program, helping to build a sense of community and encouraging continued participation in promotions.
Anti-Fraud Email: UpViral helps ensure the integrity of referral campaigns by sending automated anti-fraud emails to users suspected of fraudulent behavior. This helps businesses maintain their brand image and ensure fair competition among participants.
Email Double Opt-IN: UpViral provides a double opt-in feature that requires users to confirm their email address before being added to the mailing list. This enhances the quality of the list and ensures compliance with data protection regulations.
Email Reward Unlocked: Participants in the contest receive notifications when they unlock rewards or reach milestones. These emails motivate users to continue sharing and referring others, thus increasing their chances of winning.
Email Congratulations: UpViral sends automatic congratulatory emails to contest winners, enhancing the user experience and promoting positive brand sentiment.
Streamlined Email Templates: UpViral offers a collection of customizable email templates for various stages of the marketing campaign. These templates save time, maintain brand consistency, and facilitate seamless communication with users.
Embedded Social Buttons: UpViral integrates social sharing buttons within their email templates, making it easy for users to share and promote the contest via different social media platforms.
Advanced Email Personalization: Businesses can use UpViral's advanced personalization options to address users by their proper name in emails and tailor the message according to user demographics and activity.
Multiple Sender Profiles: UpViral allows users to create multiple sender profiles, enabling businesses to manage communication from different departments or team members efficiently.
UpViral Coupon System: UpViral offers a coupon management system that enables businesses to create, distribute, and track various coupon codes and rewards, boosting sales and customer loyalty.
Turn Losers into Winners: UpViral provides businesses with the opportunity to offer consolation prizes or discounts to non-winners, boosting customer satisfaction and potentially driving additional sales.
Retargeting Pixel Support: UpViral supports the integration of retargeting pixels, allowing businesses to remarket to users who have visited their website or engaged with their campaign, potentially leading to higher engagement and conversion rates.
eCom Custom Actions: UpViral enables businesses to define custom actions for their e-commerce platform, such as tracking completed purchases or cart abandonment, giving businesses valuable insights and leading to targeted marketing strategies.
Conclusion: Is an UpViral Lifetime Deal the Right Choice for You?
Now that you have an overview of both the UpViral Business Plan Regular Subscription and the Lifetime Deal, it's time to consider which option is the most suitable for you and your business. To make this decision, it's crucial to weigh the advantages and disadvantages of each and analyze the long-term benefits. Here, we discuss the essential factors you should consider before selecting a plan.
Budget Constraints: The Lifetime Deal has a higher upfront cost of $497 per year compared to the $1 trial for 14 days offered in the regular subscription. However, with the Lifetime Deal, subsequent payments remain fixed at $497 annually, whereas the regular subscription incurs a more considerable recurring cost of $1,068 per year. If you're on a tight budget, the Lifetime Deal could save you a significant amount over time.
Lead Management Capacity: The Lifetime Deal allows you to manage up to 50,000 leads, double the amount provided by the Regular Subscription, which is limited to 25,000 leads. If your business has aggressive expansion plans or if you're aiming for a more extensive lead database, the Lifetime Deal would be better suited to cater to your long-term goals.
Access to Exclusive Extras: One of the most significant benefits of choosing the Lifetime Deal is access to the Viral Hacking Masterclass and over 40 in-depth case studies. These resources can provide valuable insights and strategy ideas for executing successful viral campaigns.
Overall Savings and Longevity: Over the long run, the Lifetime Deal proves to be more affordable when compared to the Regular Subscription. In just two years, the Lifetime Deal's cost, at $994, is still lower than the Regular Subscription's total of $2,136. Having a fixed annual price ensures that you're not negatively impacted by potential price increases or changing plans in the future.
Business Growth Plans: Before choosing a plan, it's crucial to take into account your business's growth potential and long-term objectives. If you have a start-up or small business with limited resources, the Lifetime Deal might be an ideal choice to save on a recurring cost. However, if you're working with a larger organization and are unsure about long-term compatibility, the Regular Subscription's trial period may be more suited to your initial needs.
In conclusion, the UpViral Lifetime Deal offers more long-term benefits compared to the Regular Subscription in terms of cost savings, lead management capacity, and exclusive access to valuable resources. However, the choice ultimately depends on your specific business needs and financial constraints. Carefully analyze your growth plans and objectives to determine which plan would be the most advantageous for you and your organization.