Writing good copy for your website, social media, emails can be very time-consuming. Most marketers struggle with creating high-quality content.
They either don't have the time or they lack the skills to write good copy. This is why many of them outsource their content creation to freelancers who charge a lot for low-quality work.
AI copywriting tools can help reduce your workload and improve your writing at the same time, without having to hire expensive writers or sacrificing quality.
In this blog post, I'll cover the 12 most popular AI copywriting tools that can help you create high-quality content without having to spend a lot of time on it.
Also, we are going to discuss more on the AI copywriting tools through the FAQ to get a better understanding of the AI copywriting software. You must check this FAQ to decide whether AI copywriting software is the right choice for you.
What is a copywriting software?
Copywriting software is an AI-powered tool designed to assist you with content creation. They can help you create headlines, sub-headlines, articles, or blog posts without having to come up with ideas on your own or struggle to write something of quality.
AI copywriting tools can increase your output while helping you build a good reputation as an authority in your niche.
They are also very useful if English isn't your first language or you're not good at writing. Most of the newer software is capable of producing high-quality texts that won't make your readers cringe.
What to look for in an AI copywriting tool?
If you're planning on using an AI copywriting tool, there are certain things that you should make sure it is capable of doing. These features will give you the most value and help you avoid the scams out there.
The tool must be able to create unique content. You don't want the same thing published again and again on different sites.
It must support various niches, not just a select few. If you target multiple niches – like B2B and B2C for example – it's best to go with a versatile tool that can help you with content creation in both topics.
Things you should know about the AI copywriting software tools
AI copywriting tools are great but they are not always perfect.
There's no software on the market that can produce perfect content without human editing.
There are many tools out there that claim to be able to write content instantly and churn out millions of dollars worth of sales copy, but they can never live up to their promises.
It's true that AI can save you a lot of time by generating content in minutes, and it can help you write better content than most people on the planet.
AI tools should not be used to replace human writers but they can be used as a tool to assist them.
In this article, I'll introduce you to 12 of the best artificial intelligence copywriting software programs available today. They are useful for both internet marketers and regular bloggers.
1. Jasper.ai
Staring at $29/month
Key Features
Free trial included with 10,000-word credits
7-day money back guarantee
2,000-3,000 character lookback
Up to 600 character input limit
Unlimited runs
This AI copywriting software has voice command funtionality
Unlimited project folders
Long-form assistant
Workspace documents
50+ short-form
Copywriting templates
25+ supported languages
Chat support
Rating To Jasper AI
4.9/5
One of the best AI copywriting tools on our list is Jasper.ai, which stands out for its ease of use and has emerged as one of the best AI copywriters in the industry today. It offers a wide range of features that will help you automate your content creation process.
JsperAI copywriting software can be used to create blog posts, emails, banner ads, and sales pages. It is an AI platform that uses cutting-edge technology to deliver content at lightning speed, with guaranteed accuracy in tone and voice while maintaining a human touch.
This is the most advanced AI copywriting tool on our list – it will save you a lot of time by writing your content for you. With the latest update called Jsper.ai Boss Mode, anyone can write 2x content in half the time. We are talking about content that looks like you wrote it manually. The difference is huge!
Comments
Jasper.ai's long-form content and boss mode both are very useful to create content quickly. Jasper has well-defined features and it is easy to use. The support team is also responsive, though in some cases they take longer than expected.
I have used this tool on my website and the content is awesome. This tool helped me generate quality content quickly to meet my deadlines and set daily goals.
Jasper.ai is an excellent way to save time on your content creation process while maintaining an effective flow, tone, and style of writing that appeals to both humans and search engines alike. The best part about it is their boss mode which can churn out the excellent quality of writing in a short amount of time.
Read User Reviews
2. Shortly AI
Staring at $65/month
Key Features
GPT-3 + customized algorithm
Powerful commands to help you write faster
Improve your writing and make writer's block a thing of the past
Continuous updates – this AI only gets better with time
Rating To Shortly AI
4.8/5
ShortlyAI is a service where you can train an AI writer for any project like blog posts, children's stories, and novels.
This software is really helpful for bloggers that are looking to give their readers unique content every day without having to worry about deadlines or still being worried that they will not have much time to create new text each day.
This also makes it so bloggers do not need to be focused on creating new content only and instead focus on other aspects of running a site such as posting pics, updating social media accounts, or adding videos here and there.
Comments
I went out looking for an AI tool that I could use to help with the writing on my website and stumbled upon ShortlyAI. I read a couple of reviews and decided to give it a try. It was like a light bulb had just turned on in my head because all the other tools I had tried were really limiting me in what I could do which nobody mentioned.
With the software, you can write or even train an AI writer for any project that you want. The best thing is that you can publish it right away without having to worry about deadlines or time limits. That really makes a big difference for bloggers who have a lot going on in their lives.
If blogging sounds fun to you but you don't know where to start, this is the perfect software to get you started. It takes all the hard work out of it so that you can get great results and publish more often. I am loving this tool because it is helping me reach my blogging goals a lot faster than before and I feel so much less stressed about writing new content on my site.
Read Expert & User Reviews
3. LongShot AI
Staring at $19.90/month
Key Features
Research your niche
Generate headline ideas
Create content brief
SEO friendly long-form
Fact check
Tone of voice
Organize content with folders
Ai image generator (beta)
Rating To LongShot
4.6/5
Longshot AI is amongst the latest new companies. It's something all marketers and company owners should take a look at! This AI writing tool is specifically designed to write long-form content (2000+ words) at lightning speeds.
Longshot AI utilizes machine learning and artificial intelligence to automate writing longer pieces with deep insights. Not only does it help you create content faster, but it can also provide tips and insights in the highest quality possible which means that your content will be up to par if not better than a human writer.
Longshot AI's keyword optimization module is designed to help you create quality content by analyzing the target keywords and some related words. It makes life simple since you just have to select one of the synonyms suggested and Longshot will use it in the article. Google can rank long-form content higher than any other kind of webpage.
Comments
Longshot AI can not automate producing long-form articles it does require a little bit of input you have to put in there before it can produce the content for you as well. This is why some say that this tool is still best used with a manual editor than just putting all the info into the system and waiting for it to spit out an article.
Longshot AI has been getting a lot of positive feedbacks from their users in a short period of time, they say that the content this ai-written software has been producing is human-readable, SEO optimized, and up to professional standards.
The best thing about Longshot AI is its ease of use – all you do is fill in some basic details like your topic, keyword, and other specifics then it takes care of the rest such as researching related keywords, topics, and content ideas.
The only downside is its cost – the basic plan starts at $29 per month which may not be affordable for most users (well, unless you are running a business). However, if you can afford to pay the fee, Longshot AI is definitely one of the best possible investments.
Read Expert & User Reviews
4. Headlime
Staring at $59/month
Key Features
Research your niche
Generate headline ideas
Create content brief
SEO friendly long-form
Fact check
Tone of voice
Organize content with folders
Ai image generator (beta)
Rating To Headlime
4.6/5
Headlime is another great ai writing tool that makes writing easier. Headlime is powered by AI and what it does is make marketing content easier for people to understand. It will also make things like headlines and Facebook ads more interesting which will help you when people read them.
The AI in this tool is powered by a company called OpenAI (same GPT-3). It's crazy to think that there are companies out there who want to make AIs that can do all of the writing for us but either way this tool is pretty interesting.
Features
Copy, design & code. All done for you.
Professionally designed, responsive, templates
Easy to use drag-and-drop editor
Conversion-trained ai
Available in eleven languages
Over 1700+ pre-made templates
20+ different categories
Add your own templates with ease
Templates for re-generatable documents
Create multiple documents from a CSV file
A growing collection of document templates
New examples added every week
Find inspiration in every little detail
Switch between mobile and desktop views in seconds
One place to manage and store your marketing copy
Enable your whole team to be a copywriter
Whitelabel to look like your business
Easily work together with your clients
Comments
Share your experience I've used both Headlime and Onlinespellchecker for a long time. I actually find them useful and easy to use, especially when coming up with content ideas quickly.
I do still write using a word processor because I find it easier to organize my thoughts as well. Overall, this was the first AI copywriting tool that I ever used, and have been happy with the results so far.
Headlime is expensive ai software when comes to copywriting tools. This tool has been recently acquired by Jasper AI. So if you want to use the same functionality of Headlime then my opinion is to try Jasper AI. Otherwise, the two names don't have much in common.
Read Expert & User Reviews
5. Rytr
Staring at $29/month
Key Features
Plagiarism checker, team seats, resource center, and more
Plagiarism checker
150-200 maximum character input limit
Team seat
Use cases & output optimizations
Resource center
Chat support
Download, history & more
Long-form editor, new use cases, & doc-style workflow
Free flow, long-form editor
Doc-style management
Control over generations
Rating To Rytr
4.4/5
Rytr is a new company that just reached 30000+ customers worldwide. This tool is also specialized in AI copywriting. Over 1000+ reviews on Trustpilot, G2. This tool helped many businesses to create their sales copy, email subject lines, and Facebook ads. This tool is easy-to-use with a variety of features including a character counter, editor's choice section for the selection of words and phrases that are used most often in language.
Comments
Rytr was a good tool for me but I had some issues with the character limit. I think it's because there are so many features and that doesn't allow space for people to input more characters if they need to. But, overall, the platform is great in terms of how easy it is to create new content for my social media pages!
Read Expert & User Reviews
6. Copy AI
Staring at $35/month
Key Features
100 runs per day with a free plan
Unlimited runs with the premium plan
Unlimited credits for only $35 a month
Access to all of their tools (no hidden fee)
Translate into 25+ languages
Access to our newest features
24/7 email support
Premium community
Rating To Copy AI
4.3/5
Copy AI is a popular AI company that specializes in helping brands generate highly engaging ad copy. It also uses the GPT-3 model for generating successful copy.
Copy AI will save you time by doing all of the tedious research and laborious writing for you. You'll also have access to an excellent tool that will help you create content to market yourself and your business.
With Copy AI, there are different monthly plans you can purchase and also a free 7-day trial available. Copy AI will help you get more accurate and improved writing suggestions every single time.
Comments
Copy AI is good and affordable software for everyone who wants to get more out of their AI copywriting.
I personally don't like their user interface but it is getting better every day. Also sometimes it does bring some bad experience for me but most of the time it is good.
I love their free tool and premium tool because they really help you out a lot more than other AI tools so far.
If you are budget-friendly who want to start with ai writing tools, this is the best one I would recommend to you. You will not be disappointed at all!
I have tried copy for several days and it wrote some very good texts. Although sometimes it produces a few strange sentences, with time I'm getting more skilled in the use of the software, so fewer mistakes will occur.
Read Expert & User Reviews
7. Copysmith
Staring at $19/month
Key Features
Unlimited credits
Unlimited plagiarism checks
Unlimited long-form blog generations (beta)
Chrome extension
Access to 35+ free templates
Copy in 60+ languages
Third-party integrations
In-app chat support
Custom templates
Account manager
Account white labeling
Bulk data import & export
Rating To Copysmith
4.0/5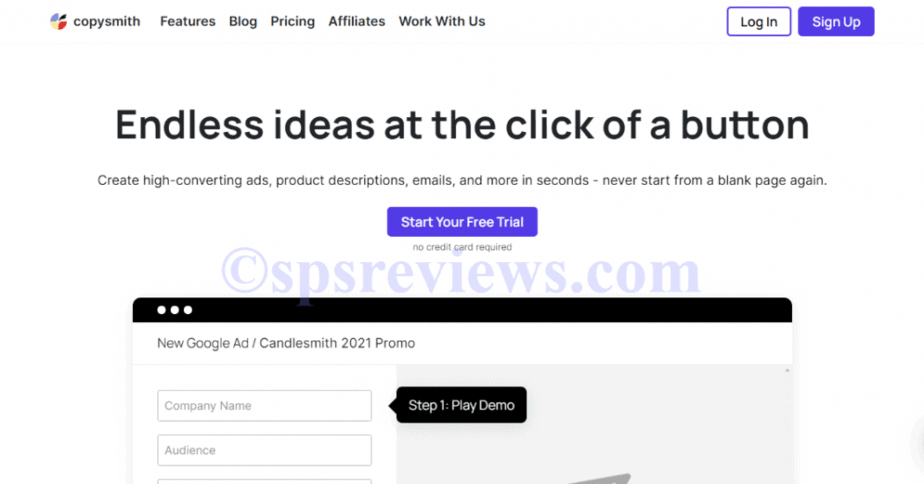 Copysmith is a marketing and content creation AI that helps with getting your message to customers and helping you scale. They have a three-step process:
1) Grab the ideas you need,
2) Get specific writing help for any text on your site, or
3) Rewrite any text for any audience.
They are powered by AI and trained on a high-performing copy so they'll help you grow at unprecedented quality and speed.
One of their main features is their library of templates where they give you everything from blog posts, to landing pages to product descriptions that they have already proven will work well.
The next thing we'll be looking at is what the Copysmith team has to offer in terms of content inspiration.
Comments
I remember when I first heard about Copysmith. I was in disbelief that they were able to create content with AI and it was really impressive to watch the videos of how they worked.
The video on their home page has also been helpful for me, and I enjoy their blog posts. I have also found that Copysmith has been important for my business because everything else required a lot of manual work. With the help of Copysmith, I am able to save time and make better quality content in less time.
One thing I really like about Copysmith is that I get to create blog posts in a language other than English. In the past, I have created blog posts by manually transcribing them into another language.
This was a lot of work and it often took more time than I wanted it to take. Now with Copysmith's ability to seamlessly translate between multiple languages, I am able to create blog posts on a variety of different topics.
The only thing that I can criticize about Copysmith is that there are only 50 credits per month, which for some people may not be enough. Other than this, I'm really enjoying using Copysmith.
Read Expert & User Reviews
8. Writesonic
Staring at $11.25/month
Key Features
Grammar check
Tone check
Sentence formatting
Formatting
Plagiarism check
Style editor
Citation finder
Content idea recommendation
Content generation
Form generation
Priority support
Rating To Writesonic
4.0/5
Writesonic is another good alternative to using a human copywriter. This service offers AI-powered writing services for your SEO and marketing content, helping you create ads that'll get you better results, including higher CTRs.
The main problem is that non-seo/marketing people usually have a hard time finding quality writers who can write well and at the same time follow SEO rules and guidelines.
This is where Writesonic comes in handy, it automates the writing process, using an AI that's been trained to write content that appeals to both humans and search engines. This means you can create amazing marketing and sales copy, all on your own.
Comments
When I first heard about Writesonic, I was in awe at how they were able to create content through AI and I thought it was really cool that they were able to show how their service worked.
The video on their site has also been helpful for me and I enjoy reading their blog posts. I have found that this product has been important for my business because it helps me save time and create good quality content faster.
One of the best things about Writesonic is that I can create blog posts in one of many different languages.
In the past, when it came to creating blog posts that were not originally written in English, I had to manually translate them into a different language which took a lot of time and was often tedious work. The only thing that I would probably change about Writesonic is to provide some more detailed instructions on how to use the product.
Read Expert & User Reviews
9. Snazzy AI
Staring at $25/month
Key Features
No credit card needed
No time limit on the Free plan
Build your campaign
Create landing pages, Google Ads, and taglines with ease.
Instant Results
Generate human, scalable content
Built for the teams
Easily snaps into existing workflows
Rating To Snazzy AI
4.0/5
Snazzy AI is a high-quality artificial intelligence software that can generate content at scale. Since it's based on artificial intelligence, it can generate content at scale and is continuously learning how to write better. The content is human-readable and does not read like a computer program. AI can generate amazing landing pages, Google Ads, and taglines for the business with just 3 clicks of the mouse.
Snazzy AI is specifically designed as an automation software that can make producing good quality content easy for businesses with limited resources or time. They are able to save a lot of time with Snazzy AI by automatically generating great content ideas for social media ads, landing pages, and more. It can also be easily used in conjunction with other marketing strategies such as email marketing and PPC campaigns.
Comments
I was browsing through the internet and came across an interesting article about how AI copywriting software is revolutionizing the content industry. The article talked about how they can produce quality content for your website at scale and are constantly learning to write better. I was a little bit skeptical, so I thought of checking out Snazzy AI.
I am not really sure what to think of this software. It does seem like it may be good software, but it still has its issues. One thing that I noticed is that the output text still needs some work. It's not as good as if you wrote it yourself. However, I do think that they're doing a pretty good job with generating content at scale and are always improving their platform to improve its quality. The interface is really simple and easy to use, so I think that anyone can easily create an amazing marketing campaign with just a few clicks of the mouse.
Overall, I would say that this software may be useful for some people in need of high-quality content at scale. It does have some issues with the output content (it does need improving), but most people may not notice the difference.
Read Expert & User Reviews
10. Nichesss
Staring at $25/month
Key Features
Generate unique blog posts, social media posts, ad copy, and more using our AI-powered copywriting tool.
Write blog posts and blog outlines in seconds
Write all your e-mails. It only takes seconds.
Generate sales copy in 10 seconds using proven formulas that convert.
Translate in 100s of languages
Take a 10-second quiz and get business ideas
Rating To Nichesss
4.0/5
Nichesss is an app with tools to help you with social media, copywriting, and more. Nichesss provides a variety of tools that will make content creation easier, as well as help you save time on outreach efforts. This is just one of the many AI copywriting tools out there that are becoming more popular for marketing purposes, but Nichesss has some features that set it apart from the rest.
Comments
After reading reviews of Nichesss, I've come to the conclusion that this is a great app for those who are looking to save time on content creation and reach out to customers. The reviews are positive for the most part, but there are some areas where it falls short. Many people report that the content created by Niches is actually is not relevant all the time. So, it is recommended to avoid using it for SEO purposes. Also, it charges heavily for the service, so it is not recommended for starters.
Read Expert & User Reviews
11. Article Forge

Staring at $59/month
Key Features
AI-powered writer
Human quality content
Content passes Copyscape
One-click article generation
60 second article turnaround
Automatically posts to blogs
Rating To ArticleForge
4.3/5
This is not an AI copywriter but Article Forge automates the writing of high-quality, human-quality content. All articles are created by our deep learning AI and are 100% unique, ensuring that none of your content is plagiarized.
Article Forge takes your input and creates an entirely unique, human-quality article in under 60 seconds for you to use however you want.
The technology behind Article Forge uses deep learning algorithms to generate completely unique articles, unlike any other article generator on the market today. This ensures that not only is each article 100% unique and free of plagiarism, but also highly readable and enjoyable for your readers.
Comments
ArticleForge is a really cool service that I am sure many of you have seen around on the internet. Apparently, they did some article creation and human-quality writing. They generate content quickly using deep learning algorithms, which means that it's high-quality and unique.
The downside? It costs a little bit more per month than what I was used to playing with other services I've tried, but maybe I should give this one more chance?
They need to bring a long-form content generator because ArticleForge is only able to write up to 700-800 word articles for the given keyword.
Read Expert & User Reviews
12. Kafkai
Staring at $29/month
Key Features
Niche content writer
Advanced niche writer
General writer
No scaping the content
Up to 900 word article
Rating To Kafkai
3.5/5
Kafkai is a machine-learning algorithm created to generate content for marketers and SEOs. The algorithm was designed specifically for online writers and high-volume websites that need unique, readable content at high speeds. This AI writer uses POS tagging, natural language generation, and synonyms to create articles that not only have high human readability scores but also produce relevant results for search engines. They can also generate text in 7 different languages so you can reach your audience in virtually any market.
Comments
I read the reviews of a lot of blogs and websites that have written about Kafkai so I wanted to share my opinion as well. One of the main things I noticed was that it is fairly expensive. It can be time-consuming as well because waiting times are huge compared to other tools. The output content is not always human-readable which might turn people off from using it.
For people who like editing, a lot of work is required and beginners might need more guidance in how to use this software. People who are not editors may not be happy with the amount of editing needed but if you're looking for something that can generate really good, readable articles quickly then this tool would be for you!
Read Expert & User Reviews
What Are My Recommended AI Writers?
Overall, Jasper.ai is, in my #1 recommendation when comes to AI writing. It is the best artificial intelligence copywriting software on the market right now. Jasper AI has recently accused one of my favorites AI copywriting software ShortlyAI.
So you no need ShortlyAI anymore. All its features are now inside Jasper.AI.
Now you can produce high-quality output, clean and error-free content with an open style of writing that lets you write anything by using commands.
Jasper uses a complex algorithm to understand the context of your text and any variations in your writing voice – its understanding of context leads to higher quality output. JJasper can also detect emotions in your text and adjust accordingly – it knows how much you should be emphasizing importance, emotion, or urgency.
My second recommendation is ArticleForge if you want to write 500 to 800-word articles or if you need to create a short piece of content. After the version 5.0 update, ArticleForge is really good at generating articles on a single keyword so I'm sure that you'll get your money's worth.
Again this is just my opinion. You may try any of the above software by yourself and see how good they are. Good luck!
FAQ On AI Copywriting Software Tools
What is AI Copywriting?
Copywriting software that uses artificial intelligence to create text for marketing purposes. AI copywriters can be programmed to target specific audiences and key words while being creative with their tone. They are designed to increase conversion rates, generate more traffic, and help website rankings.
What advantages do AI copywriting tools offer?
AI copywriting tools are beneficial for two reasons. For one, the tools are able to produce top quality content on a regular basis that is noticeably better than the average human writer. Another advantage of AI copywriting software is that these programs can generate text regardless of what language they are set to. This means that learning a new language for every market you want to target will be a thing of the past with AI-generated content.
What are some disadvantages of content AI?
One of the disadvantages of AI content is that it's not quite perfect. These programs can only produce text to the best of their ability, so you'll get less word variation and sometimes incorrect grammar and spelling. However, for most purposes this won't make much of a difference.
How do AI writing software work?
AI copywriters all work differently but generally speaking, they are able to generate a large amount of text in a short period of time. They do this using various features and algorithms that allow them to imitate the writing style of other authors. The AI software is also capable of learning from its mistakes, and coming up with more advanced ways to generate content as time goes on.
What content can I expect from an AI copywriter?
AI copywriters are capable of producing content in almost any form, making them perfect for just about every form of business. The best way to utilize the software is to provide it with a large amount of data from your industry. This should include examples that you want included in the text as well as keywords and phrases that you would like targeted in the text. Once the AI copywriting software learns enough it will then be able to generate professional, high-quality text tailor made for your business and customers.
Are They Any Free AI Writing Software? What Are The Limitaions?
Yes, there are some free AI writing software, but the limitations of these programs may not be what you're looking for. Free AI copywriters often have a limit on the number of words they can generate each day – which means that your content will be low quality compared to their paid counterparts. There is also a risk of bots or spam if you don't know where to find reliable AI copywriting software for free. If you want to avoid this, you can check out our article on 12 top AI copywriting tools and see which one suits your needs best!
What other services do the best AI copywriters offer?
Some of the leading AI copywriters will also include SEO functionality, keywords tracking, and social media posting. They can also be used as a tool to find your target audience based on niche or location for more focused marketing efforts.
How is AI copywriting different from human copywriters?
The biggest difference with AI copywriters is their ability to scale. A single person can only create so much content in a day, but AI copywriters can produce thousands of words in the same time frame. This is a great tool for marketing teams when looking to increase their output without hiring more people.
AI copywriting software will also be free of bias and won't edit their own work which provides objective feedback that you might not get from other sources. The ability to program the software with your own criteria and instructions also allows you to customize it for your needs.
How do I use AI copywriters?
AI copywriting tools are designed to be extremely easy-to-use, particularly on desktop computers. You just have to write out your content strategy using keyword targets, goals (traffic, conversions, and keywords), audience type, audience size, and tone. After this information is compiled into a simple block of text you just have to hit the 'run' button!
What are the benefits of AI copywriting tools?
AI copywriters can be programmed to create specific content that will appeal to multiple audiences while targeting key words for higher rankings. They can also be customized to focus on certain types of writing like website reviews or blog posts for more focused marketing efforts.
There are a lot of differences between AI software and human copywriters, but one thing is for sure: they're here to stay. This market is only going to get bigger as AI becomes even more advanced. The best thing you can do as a marketer is to keep up with AI copywriting tools and how they can optimize your marketing efforts.
Does the AI copywriting software have to be online?
Yes, while there are versions of the software available for download as an offline app, they are not currently as effective.
What's the difference between the AI copywriter tools and regular text generator tools?
In addition to coming with various features like images, links and videos, AI writing tools are designed to create natural sounding texts. They do this by using machine learning (ML) algorithms that learn from previous online content. This means that they can write in a style similar to the content that is already popular on your target market's favourite platforms.
Can I use AI copywriter software for anything besides blog posts?
Yes! There are specialized tools designed to generate texts with an automated flow. This includes emails, ad copy and even news articles. However, keep in mind that the better you know your target market's preferences (aka: what they like), the more effective these tools can be.
Does the AI copywriting software produce original content or just rewrite old articles?
Because some of these writing tools use machine learning algorithms, they might reuse a few previous articles that have been written using similar wording. However, if you check their Terms and Conditions (T&C), it should clearly state whether or not this is allowed or not. Some tools, like
What is the future of AI copywriters?
While there have been some reports that suggest AI-generated articles are more effective than human ones, we're still far away from a true and fully functional AI. That means that there is still a place for human-written articles but don't expect to see an AI take your job anytime soon!
How much does it cost to use online article writing software?
Because the tools are relatively new and not yet perfected, they're available at their lowest price point. Most of them are currently charges from $19 USD per month.
This is a long-form content on the same topic of the above article that I need to write in about 1000 words.
It's important to note here that this expanded form of content would have been far more difficult to write without AI tools.
Thank you for spending your valuable time on my website. If you liked my 12 best AI copywriting software tools article, then please bookmark this page or my website, subscribe to our YouTube Channel, like our Facebook page & follow us on Twitter for the latest reviews & updates.