Spreadsheets are the duct tape holding many businesses together. They're ubiquitous, flexible, and familiar. But spreadsheets weren't built as collaborative multi-user tools. Sharing data, building workflows, and creating interfaces with spreadsheets can be cumbersome.
That's where Frontly comes in.
Frontly allows you to unleash the power of your spreadsheet data by turning it into fully customizable client portals, internal tools, and analytics dashboards…without writing a single line of code.
With Frontly's AI-powered app generator, you simply describe what you want to build in plain English. Frontly instantly produces a functional app from your spreadsheet that you can then customize to your heart's content with drag and drop simplicity.
In this in-depth Frontly review, we'll dive into how Frontly can help you transform the way you leverage your spreadsheets by:
Streamlining collaboration and sharing data
Automating manual processes
Building client portals and dashboards
Replacing makeshift databases
And much more
We'll break down Frontly's standout features, use cases, pricing, and more – including an honest look at both the advantages and limitations.
If your business relies heavily on spreadsheets, this review is a must-read to understand how Frontly can unlock new dimensions of productivity. Let's get started!
Overview of Frontly
Frontly enables anyone to create secure internal tools and client portals from Google Sheets and Excel without writing any code.
With Frontly, you can quickly build:
Client portals
Admin dashboards
Analytics dashboards
CRMs
Inventory management systems
And more.
The key value proposition of Frontly is that it lets you leverage the data you already have in spreadsheets while adding a no-code interface and access controls.
Frontly is built for:
Marketers – Create branded client portals and share analytics.
Agencies – Build custom portals for clients.
Small businesses – Optimize workflows with internal tools.
Overall, if your business relies on spreadsheets and you want to unlock more value from your data, Frontly is worth exploring.
🔥Activate Frontly Lifetime Deal🔥
$59 One-time
Regular Price: $19/month
Key Features of Frontly
Let's look at some of the notable features offered by Frontly:
AI-Powered App Generator
The main highlight of Frontly is its AI-powered app generation. Instead of starting from a blank slate, you simply describe the app you want in natural language.
Frontly's AI will generate a fully functional app based on your description that you can further customize using their drag and drop editor. This makes it easy for non-technical users to build apps fast.
Pre-Built Blocks
Frontly provides a number of pre-built blocks like tables, lists, forms, charts, and more that you can use to add functionality to your app without coding. The app editor is intuitive and allows you to drag and drop blocks where needed.
Connect Google Sheets
You can easily connect your Frontly app to Google Sheets to manage your data. This allows you to leverage the power of Sheets while adding a better interface and access controls through Frontly.
User Management
Frontly enables you to define users and roles with granular permissions. You can have password-protected logins, restrict access to certain sheets or app views, and more.
White Labeling
To maintain your brand identity, Frontly makes it easy to white label your apps. You can customize the domain, logo, colors, and more.
Other Features
Other notable features include:
Email notifications and triggers
Charts and analytics
Multi-language support
Mobile responsiveness
Kanban boards
Calendar views
and more
Integrations
For now, the only major integration offered by Frontly is Google Sheets. However, they plan to add more integrations like Stripe, Zapier, and database connections in the future.
Frontly Pricing and Plans
Frontly offers monthly and annual pricing plans based on the number of apps, users, and other metrics. Here is an overview of Frontly's pricing tiers:
| Plan | Monthly Price | Annual Price |
| --- | --- | --- |
| Basic | $19 | $228 |
| Growth | $99 | $1188 |
| Business | $299 | $3588 |
| Enterprise | Custom | Custom |
The Basic plan includes 1 app, 1 editor user, and 100 AI tokens. AI tokens are used to generate apps through AI.
The Growth and Business plans add more apps, users, AI tokens, and priority support. Enterprise pricing is custom based on your needs.
Frontly's Lifetime Deal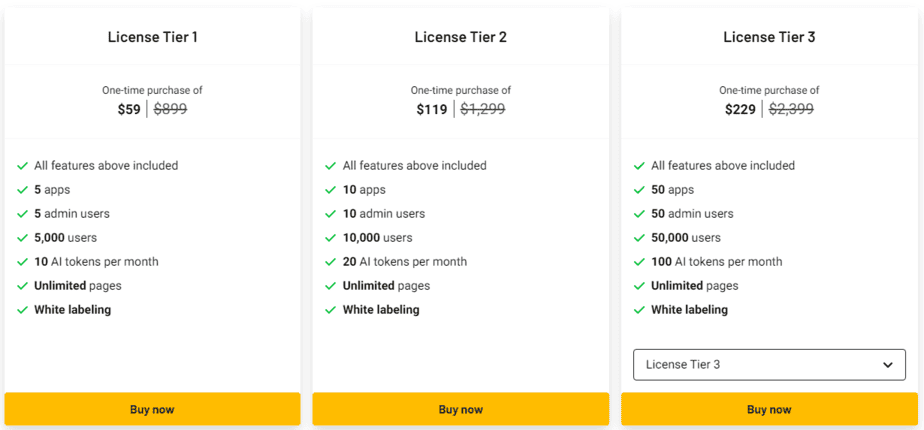 Frontly is currently offering a limited time lifetime deal for AppSumo users. This discounted pricing gives you lifetime access to Frontly with no recurring fees.
There are 3 tiers available for the lifetime deal:
Tier 1 – $59 One-Time Purchase
5 apps
5 admin users
5,000 end users
10 AI tokens per month
Unlimited pages
White labeling
Tier 2 – $119 One-Time Purchase
10 apps
10 admin users
10,000 end users
20 AI tokens per month
Unlimited pages
White labeling
Tier 3 – $229 One-Time Purchase
50 apps
50 admin users
50,000 end users
100 AI tokens per month
Unlimited pages
White labeling
The lifetime deal also comes with a 60 day money back guarantee. So you can request a refund within 60 days if you're not satisfied.
Overall, these lifetime tiers provide an excellent opportunity to get access to Frontly's powerful features at a very reasonable one-time price. It's a great option for solopreneurs, businesses, and teams looking for affordable no-code solutions.
But act fast – Frontly's lifetime deal is only available for a limited time before it expires!
🔥Activate Frontly Lifetime Deal🔥
$59 One-time
Regular Price: $19/month
Pros and Cons of Using Frontly
Let's summarize some of the key advantages and limitations of using Frontly:
Pros
Intuitive drag and drop editor
AI-powered app generation
Leverage existing spreadsheet data
No coding required
User management and access controls
White labeling options
Cost effective pricing
Cons
Currently only connects to Google Sheets
Limited pre-built templates
Smaller community than competitors
No native mobile apps
No payments integration yet
While Frontly has some restrictions, its ease of use and focus on spreadsheets help it stand out in the increasingly crowded no-code space.
Who is Frontly Best Suited For?
Here are some of the ideal users who can benefit the most from Frontly:
Marketers – Easily build branded dashboards to share data with clients and your team.
Agencies – Provide custom portals and self-serve tools to clients.
Sales Teams – Create client portals that provide key data on-demand.
Support Teams – Build help desks and knowledge bases for customers.
Product Teams – Get quick feedback by sharing prototypes and mockups.
Small Business Owners – Optimize operations with custom internal tools.
Basically, if your business relies heavily on spreadsheets, Frontly is a cost-effective way to unlock more value from your existing data.
How Easy is Frontly for Non-Technical Users?
Ease of use is one of Frontly's biggest strengths. Here are some examples of how Frontly simplifies no-code app building:
The app generator allows you to describe any app idea in simple text. Frontly's AI creates a functional app from your description that you can then customize.
Frontly's editor uses a simple drag and drop interface. You don't have to worry about coding. Just drag blocks like tables, charts, forms, etc onto your app canvas.
Connecting your Google Sheets is a breeze. Just authorize access and select the specific sheets you want to use. Frontly handles the rest.
User permissions take just a few clicks to set up. And you can update them anytime.
Styling your app with custom branding only takes a few minutes. No HTML/CSS skills needed.
The docs and support resources provide ample guidance for non-technical users.
Overall, Frontly has one of the easiest no-code interfaces we've seen. The AI-powered generation and spreadsheet focus make it very beginner-friendly.
What Frontly Apps Can You Build?
Here are some examples of apps you can create with Frontly:
Client portals – Give clients access to project data, documents, and tools through a branded portal with their own login.
Sales dashboards – Build live sales data dashboards to share with your sales team.
Help desk or knowledge base – Create simple sites to provide support resources to customers.
Inventory management – Build an admin portal to manage inventory data from spreadsheets.
QA/Feedback portal – Collect product feedback and bug reports from beta testers.
Content calendars – Collaborate with your marketing team using content calendars.
Fitness tracking – Build apps to collect and analyze fitness data.
Timesheets – Create timesheet entry and reporting tools for contractors.
And much more. Frontly is extremely flexible. If you have spreadsheet data that needs a better interface, you can likely create the app you need.
Can You Build External Client Portals with Frontly?
Yes, one of the most popular uses of Frontly is building branded client portals and dashboards.
Here are some examples of external facing portals you can build:
A project management portal where clients can view project timelines, docs, and status updates.
A client services portal where your clients can self-serve tools and resources you provide.
An analytics dashboard to share key performance data with clients.
eCommerce portals to give dropshippers or distributors access to your product data.
For client portals, Frontly makes it easy to:
White label with your own branding
Set up client user accounts
Restrict data access as needed
Automate emails and notifications
So in summary, Frontly is extremely capable for building external facing portals for clients with just a few clicks.
Can You Password Protect Apps Built with Frontly?
Absolutely! Frontly provides robust tools for setting up user accounts and controlling access.
Here are some of the key password protection and security features in Frontly:
Password login – Set up app logins with email and password for each user.
Role-based permissions – Restrict access for certain user roles to only see or edit assigned data.
Row-level security – Limit user access to only specified rows in a sheet.
Sheet permission – Control user access to individual sheets within your spreadsheet.
IP whitelisting – Only allow access from specified IP addresses.
Audit logs – Review logs of user activity and access.
Data encryption – Ensure secure data transfer between Frontly and sheets.
So in summary, Frontly provides very robust tools to password protect your apps and control access at a granular level. For client portals or internal tools, you can easily ensure that only authorized users have access.
What Support Does Frontly Offer?
Frontly provides the following resources and channels for getting support:
Email support – Reach out to support@frontly.ai for help via email.
Help Center – Frontly provides a thorough library of tutorials, guides, and FAQs.
Community forum – Ask questions and get input from other Frontly users in the community forum.
Priority support – Upgraded plans include priority email and in-app support.
Overall, Frontly offers excellent customer support through multiple free channels. And the in-app chat and help center make it easy to get answers when you need them.
Is There a Free Plan for Frontly?
Frontly doesn't currently offer a free forever plan. However, they do provide the following free options:
Free 14-day trial – Test out Frontly for two weeks without entering payment info. All features unlocked.
Limited free account – Sign up for free and build one app indefinitely with some limits.
Free demo sandbox – Build and test apps in a demo environment without signing up.
So while there is no free forever tier, you can take Frontly for an extensive test drive before deciding if it's right for your needs. The free trial lasts for 14 days and includes all features.
Frontly's App Building Process
The app creation process with Frontly is quick and intuitive:
Describe your app – Type a simple text description of the app you want to build. For example: "A client portal for my accounting clients to view their financial reports".
Frontly generates app – Within seconds, Frontly's AI will create a fully functional app based on your description.
Customize the app – Use Frontly's drag and drop builder to add blocks, connect sheets, set permissions, etc. to customize the auto-generated app.
Publish your app – When ready, publish your app with a few clicks. You can then share it with users.
Get user feedback – Gather feedback from real users to further iterate and improve your app.
The natural language processing AI makes app creation incredibly fast. And Frontly's editor lets you tweak the app generated by the AI to build exactly what you need.
Collaboration Tools
Frontly makes it easy to build tools to improve collaboration both internally and with clients:
Team Dashboards – Create live dashboards connected to sheets so your team has access to the latest metrics and reports.
Client Portals – Share project updates, documents, and tools with clients via a branded portal.
Task Management – Build a team task board linked to sheet data to track progress.
Calendars – Sync schedules and share calendars with the team calendar block.
Live News Feeds – Embed RSS feeds into your portal for quick access to news.
Commenting – Allow discussions directly within the app with commenting blocks.
With these features, Frontly can power faster and cleaner collaboration whether for internal teams or interacting with external clients.
Is Frontly GDPR Compliant?
For EU businesses, it's important to evaluate if software is compliant with GDPR and other privacy regulations.
Frontly states that they are GDPR compliant. Some of the key privacy features they offer:
Data encryption in transit and at rest
User account controls
Access and permission restrictions
Audit logs to track activity
Data deletion/anonymization
Additionally, Frontly allows EU data residency – meaning your data stays within the EU and doesn't get transferred externally.
So in summary, Frontly does state they meet GDPR requirements for managing private data. But as with any platform, you should consult your own legal counsel if GDPR compliance is critical.
Alternatives to Frontly
Some of the top alternatives to Frontly include:
AppSheet – Google's no-code app builder with spreadsheet import. More complex pricing.
Bubble – Feature-rich no-code builder but requires more technical skill.
Smartsheet – Leading collaborative spreadsheet tool. No app building features.
Coda – Build apps and docs from sheets. Not as intuitive as Frontly.
Ninox – Database-focused no-code platform, less spreadsheet integrated.
While the no-code space has many options, Frontly stands out for balancing ease of use with flexibility by focusing on spreadsheets.
Frontly Review – Final Verdict
In our experience, Frontly hits a sweet spot between flexibility and ease of use in the no-code space.
If you rely heavily on spreadsheets, Frontly can empower your team to unlock much more value from your existing data.
The AI-powered app generation gets you up and running incredibly fast without technical skills. And the spreadsheet integration ensures you can leverage data you already have access to.
For the relatively low pricing, you get a robust set of features to create secure and powerful internal tools and client portals tailored to your needs.
While Frontly has some limitations in terms of third-party integrations, it excels at its primary use case – helping businesses configure spreadsheet data into flexible apps quickly.
So if you're looking for an intuitive way to get more from your spreadsheets without coding, we definitely recommend giving Frontly a look.
🔥Activate Frontly Lifetime Deal🔥
$59 One-time
Regular Price: $19/month
FAQ
What integrations does Frontly offer?
Currently, Frontly only has deep integration with Google Sheets. All of your app data is stored and synced with Sheets. They plan to add more integrations in the future like Stripe, Zapier, databases, and more. But for now, Google Sheets is the one major integration.
Can I use custom domains with Frontly?
Yes, Frontly enables you to use custom domains and subdomain URLs for your apps. This allows you to maintain your brand identity when sharing apps externally or with clients. The higher tier plans include more customizable domain options.
Does Frontly offer mobile apps?
Frontly does not currently have native iOS or Android apps. However, the web apps created on Frontly are mobile-responsive out of the box, so they will function nicely on mobile devices through the mobile browser. But there are no native Frontly mobile apps.
What is the learning curve like?
One of Frontly's biggest advantages is its intuitive interface. The app generator and drag-and-drop editor make it very easy for non-technical users to build apps without coding experience. The docs and support resources also provide ample guidance for new users. The learning curve is quite minimal.
How many apps can I build on Frontly?
The number of apps you can publish depends on the pricing tier. The Basic plan allows 1 app, while Growth allows 5 apps, Business allows 50 apps, and Enterprise is unlimited. You can build as many apps in the editor as you want, but your tier limits how many get published.
Is there a transaction or row limit?
No, Frontly does not impose any hard limits on the number of rows or records you can store in your sheets. However, Google Sheets does have technical limits on sheet sizes that very high volume users could potentially reach. But Frontly itself does not limit rows.
Can I access spreadsheet data offline?
No, Frontly does not currently support offline access to your sheet data. You need an active internet connection to connect Frontly to Google Sheets. There is no local sync or offline mode. Internet access is required to access your sheet data within Frontly.