How To Make Money With Vidnami: Let me show you how I make $100+ a day, step by step, using Vidnami, Clickbank, JvZoo, And Youtube.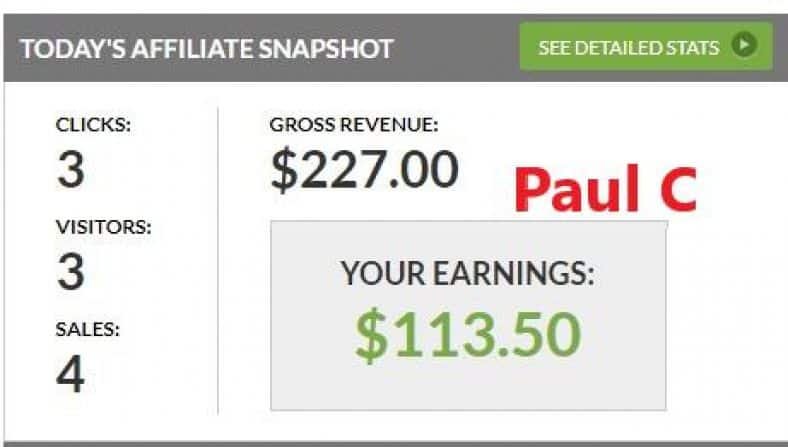 Disclaimer: This is not a get rich quick method and I'm not promising you'll make the same figure I earn. Also, This is not a Vidnami review post. If you are looking for a Vidnami review then please go here.
This is a YouTube and Affiliate success method that has been working for me and a few of my clients. And I thought I should share with you so you can benefit too.
Are you ready?
Since YouTube started demonetizing A.I. voice-over videos and all that, I have to FOCUS my youtube channels on affiliate niches. So I can monetize myself (without relying on youtube ads). So I can determine my affiliate monthly paycheck through my effort.
I will show you the step-by-step method I use, how I make money affiliate check using Vidnami and Youtube, and how you can replicate the method.
Step 1: Choose An Affiliate Program
So what is my favorite affiliate network?
There are several affiliate networks out there: Clickbank, JvZoo, Warriorplus, Paydotcom, CJ, Market Health, Shareasale, Affiliate, PeerFly, ETC.
But my main focus is one ClickBank but sometimes I promote Jzoo IM offers.
I preferred Clickbank because they have huge and various affiliate offers. No affiliate product approval is needed and they pay higher affiliate commissions.
You can even decide to promote their monthly recurring affiliate products.
Clickbank is an affiliate network where you can promote whatever product you want. You can choose from thousands of affiliate products.
You can get a free account with them if you don't have one yet.
Step 2: Pick An Affiliate/Clickbank Niche
There are several ClickBank niches you can choose from. But I prefer sticking with these 3 hot niches ( Health & fitness Niches, Wealth & MMO Niches, and Relationship Niches).
Tip: I will advise you to focus on affiliate desperate niches: These are people desperately looking for a solution to their problem and are ready to buy any good product that can solve their problem.
In this section, you need to focus on A NICHE. One thing at a time. You don't need to work on several niches at a time. Just focus on one niche, scale it up, and then move to another niche.
Finding your video topics?
Make a list of long-tail keywords on your niche, because these will be much easier to rank on Google and Youtube.
You can use any of these keyword tools to make your research:
Google keyword planner, Tubebuddy or VidIQ, UberSuggest, Keyword everywhere, and keywordtool.io.
Tip: You can spy on your youtube competitors and find their most popular video topics. You can also use a keyword tool to find long tails keywords and topics for your videos.
I make a list of 100 -350 long-tail keywords on each niche. So I focus 1 video on 1 keyword.
So each Niche Channel, I make 100 to 350 videos focusing on different keyword topics.
Step 3: Build A Youtube Channel Around Your Niche
Youtube channels are free so you are not paying a dime for a Youtube channel. Pick a niche and build a youtube channel around the niche.
Choose a good channel name (keyword-related name).
Example: If you chose the 'get ex back' niche, you can choose a channel name like 'How to get your ex back' or 'The best way to get ex back.
Did you get the idea?
You can use canvas to design your channel logo and channel art.
Make sure you set up your channel properly.
On your channel setting: Include your niche keywords and description.
Step 4: Get Video Contents And Start Creating Your Videos Using Vidnami
What type of videos are you going to create?
You should create helpful niche-related videos that will add value to your audience.
This is very important if you want them to buy your affiliate offer. You must give value. Create 'How to' video, 'Tips content' related videos, etc.
You MUST give out useful video content. So each video must be valuable.
Tip: You can never give too much valuable. Please make sure you make valuable video content on your niche. It's all about giving VALUABLE CONTENTS.
How do you get content for your videos?
You can use your available articles or blog posts for your videos (if you already have content in the same niche). But if you don't have content, you can easily create video content or outsource.
You can get content ideas online and then rewrite them in your words to make them unique. It's very easy to do if you're not lazy.
Please don't copy other people's content online. You can outsource this part if you choose to.
What's my video-creating tool?
Now start creating your videos using the Vidnami app. I love using vidnami because it makes the job much easier for me. It animates my video text, with unlimited images, video clips, background music, and A.I. voiceovers. So you have all in one app.
And you can produce unlimited monthly. Although you need to master using Vidnami to produce high-quality videos for your affiliate niche channel.
Step 5: Upload And Optimize Your Videos On Your Youtube Channel
Congratulations, you can now start uploading and optimizing your videos on your youtube channel. Make sure you name your video file with your keyword.mp4.
For example: If your keyword is 'Get ex-girlfriend back fast' then your video file should be named: 'Get ex-girlfriend back fast.mp4'.
I hope you understand that?
You can start uploading your videos. Make sure you run SEO optimization on your video which includes using your keyword on the video title, description, and tags.
Have a good and attractive video thumbnail (which you can create using the free canvas tool).
Tip: You can use tubebuddy tool to research how competitive a keyword is. This will help you know how difficult or easy a keyword is and the best practices that can help you rank your videos easily.
What are the OTOs (One Time Offers) in the 1 Page Commissions App?
Oto info for 1 page commissions app: The OTOs (One Time Offers) in the 1 Page Commissions App are additional upgrades or features that can enhance your experience and results. These exclusive offers are presented to you after your initial purchase, providing opportunities to further maximize your earnings and unlock valuable resources. Explore the OTOs to unleash the full potential of the 1 Page Commissions App.
Step 6. Monetizing Your Video With Your Affiliate Links
Wow! It's time you start making money from your videos. You can choose to build an email list of subscribers and sell more affiliate offers to them over and over. Or send them directly to the affiliate offer and make one-time sales from them.
The choice is yours? Although I started with the second option and am now upgraded to the first option.
You can do all that in your video description. Add your affiliate link or your opt-in page on the first line or second line of the video description box.
You can use bit.ly to shorten your link. It also helps you track your clicks and audience.
Make sure you have a good call to action on your video description.
Tip: Scale up your results. Make more videos and Repeat the same process in other niches and earn much more. I make 100 to 350 videos on each channel niche.
Bonus Tips: You can make ClickBank product review videos or any other product review videos.
These types of videos help to sell CB products easily. And very easy to rank too, if you pick a low competitive buyer keyword.
Do you know why product review videos help sell affiliate products easily?
It's because buyers are already searching and hungry to buy the product. They are just looking for an honest review that will help them make their decision. So Making the product review video helps you sell the product easily.
You can also make product review videos from other affiliate networks such as Clickbank, jvzoo, warriorplus, paydotcom, CJ, market health, ShareASale, affiliate, peerFly, ETC.
Step 7: Enjoy Your Results
An affiliate niche channel is a long-term investment and yields a long-term harvest.
Example: An affiliate niche channel you build today can keep earning you a monthly paycheck, month after month even without further effort.
But how difficult are these steps?
It's not difficult to implement. Although, it requires time, dedication, persistence, and hard work. But it works and you will keep reaping the harvest in the long run without further work.
I hope you find it useful?
So this is the method I and a few of my clients have been using to earn affiliate commissions using Vidnami, Youtube and ClickBank.
This post was inspired by one of my marketing friends – his name is called Paul Chukwukere. If you have any other questions on this method, please feel free to ask here.
Checkout my in depth Vidnami review here.