Synthesia.io Review

Our Final Verdict on Synthesia
Creating videos is a time-consuming and expensive process. Even if you are able to create the perfect video, it's hard to get the audience's attention because of all the other competing brands out there. Synthesia allows us to quickly create professional-looking human synthesized videos in minutes without having any technical knowledge or skills at all. It's like hiring an actor for our brand! We can now easily create high-quality promotional videos that will help us stand out from competitors and increase traffic on our website with ease! I usually take about 3-6 hours to just create one video. With Synthesia, I can now able to make videos in 15 minutes or less. I am really happy to use this software.
OVERALL
Now, I am going to discuss A-Z of this amazing AI video creation platform.
Synthesia.io Review – The Pros and Cons
Pros:
Cons:
If you have ever wanted to make a video for your business, but you think it's too expensive or time-consuming, then Synthesia is the perfect solution. Now anyone can make a professional human-like video with texts! With Synthssia, people can share any information visually with others and they will be more engaged with that information because they are using their eyes instead of their ears.
Welcome to my review of Synthesia.io. It is one of the best AI video creation platforms that I have used online. I am happy today because there are so many things I want to say about this platform.
Synthesia.io Review – A Quick Overview
| | |
| --- | --- |
| Product Name | Synthesia.io |
| Product Creators | Entrepreneurs from UCL, Stanford, TUM |
| Starter Price | $30/month |
| Free Trial | No |
| Quality | Premium Quality |
| Support | Both email and live chat |
| Refund | 15-day |
| Official Website | https://www.synthesia.io/ |
| Product Type | AI Video Maker |
| Recommendation | Highly Recommended |
What Is Synthesia.io Exactly?
Synthesia.io is an AI video creation platform developed for entrepreneurs, business owners, and corporates. With this tool, you can create your own custom-tailored, high-quality AI video as quickly and easily as writing an email.
All you need is text and some basic editing commands to create amazing videos for customer onboarding, enterprise training, retail customer education, or just about anything that needs engaging content. You don't even need actors, cameras, or audio equipment because Synthesia.io does all the heavy lifting – it creates video automatically.
Synthesia also has the ability to make videos automatically with its API integration. This is useful for people who are making videos for their company or products.
Also, you can build a journey that is personal for your customer. For example, when someone buys something, you can create an onboarding video. Or make a video to say thank you.
Who is Behind Synthesia.io? About The Company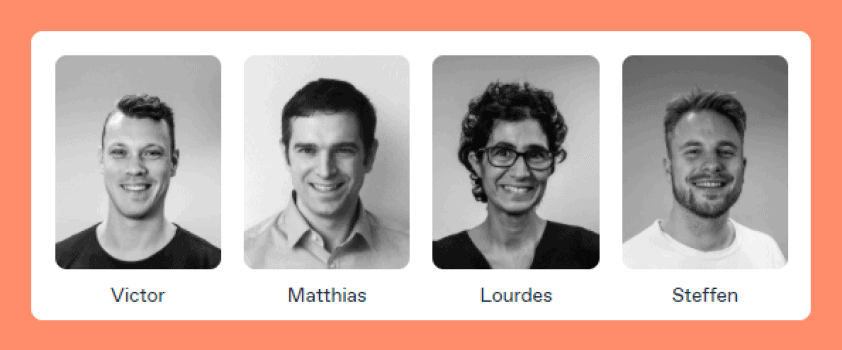 Synthesia.io (Synthesia Limited) is a company that was founded in 2017. It's made by researchers and entrepreneurs who want to make it so that everyone can be a creator. They did this by replacing cameras with code, making it possible for people with no background knowledge or skills to make the video because they have access to technology that allows them to do anything in video format using virtual reality technology!
The world of content is changing. The most recent thing that has changed is something called synthetic media. This is a term used to describe video, image, text, and voice created by computers. One of the most exciting developments in deep learning lately!
What Synthesia.io Can Do For You?
Synthesia.io is an AI-powered solution to create video content that you can share anywhere with confidence
Save hours and days of work by using the power of artificial intelligence
Stop wasting money on hiring writers, paying for content services, or outsourcing production
Build your social media presence without losing focus
You don't need technical knowledge to make a video
It's perfect for any kind of creator who wants an easier way into the filmmaking industry
The technology is great for professional filmmakers too as it reduces production time by 50%!
How Does Synthesia io Work? Watch The Demo
Here's how Synthesia works:
Step 1: Input your text that you want your avatar to narrate.
Step 2: Select a character from the selection of avatars that are available or you can make your own avatar.
Step 3: You can choose your background. If you've made a custom one, then go to that. You can also choose between different music options too if you want to have music in the background.
Step 4: You will get your custom video in just a few minutes.
Watch this quick demo video of Synthesia io video creation platform
Why Synthesia.io? and What Are The Benefits of Using It?
If you are a small business owner or an entrepreneur, then you know that video marketing is one of the most effective ways to market your product or service. However, it can be very expensive if you want to hire someone on Fiverr.
You need more than just words and pictures for people to understand who you are and what your company does. A lot of small businesses struggle with creating videos because they don't have the time or resources needed for this task.
Synthesia is a professional tool that provides human-generated lip-synced videos in minutes from your text. This software allows anyone to create professional-looking video content without any prior experience in video editing or photo animation skills required!
What Type Of Videos You Can Make?
Learning & Development
Training videos are a great way to keep your employees or business partners engaged and up-to-date on new information. In the past, they were difficult and expensive to create but with Synthesia software, it's as easy as talking into your phone! This blog post will show you how in 15 minutes, you can make high-quality training videos that engage your audience.
Corporate Communications
You can turn slides into videos with Synthesia.io. You can make presentations for internal and external stakeholders, and communicate in 40+ languages! People without video editing skills don't need to worry.
If you want to share your ideas in a video, then you can add videos to your slides. Or you can make a video from your PowerPoint. All you need to do is upload the slides and type out what will be said. You can then create an engaging video at the click of a button.
PPT to Video: Synthesia is a way to make video presentations. You can use it if you want to show people what you are saying in a slide deck. It takes minutes. There is no need for custom graphics and backgrounds, but you can upload them if that would be helpful.
Personalized Videos
Send personalized videos throughout the customer journey. Video drives action. You can now automatically personalize your communications with Synthesia!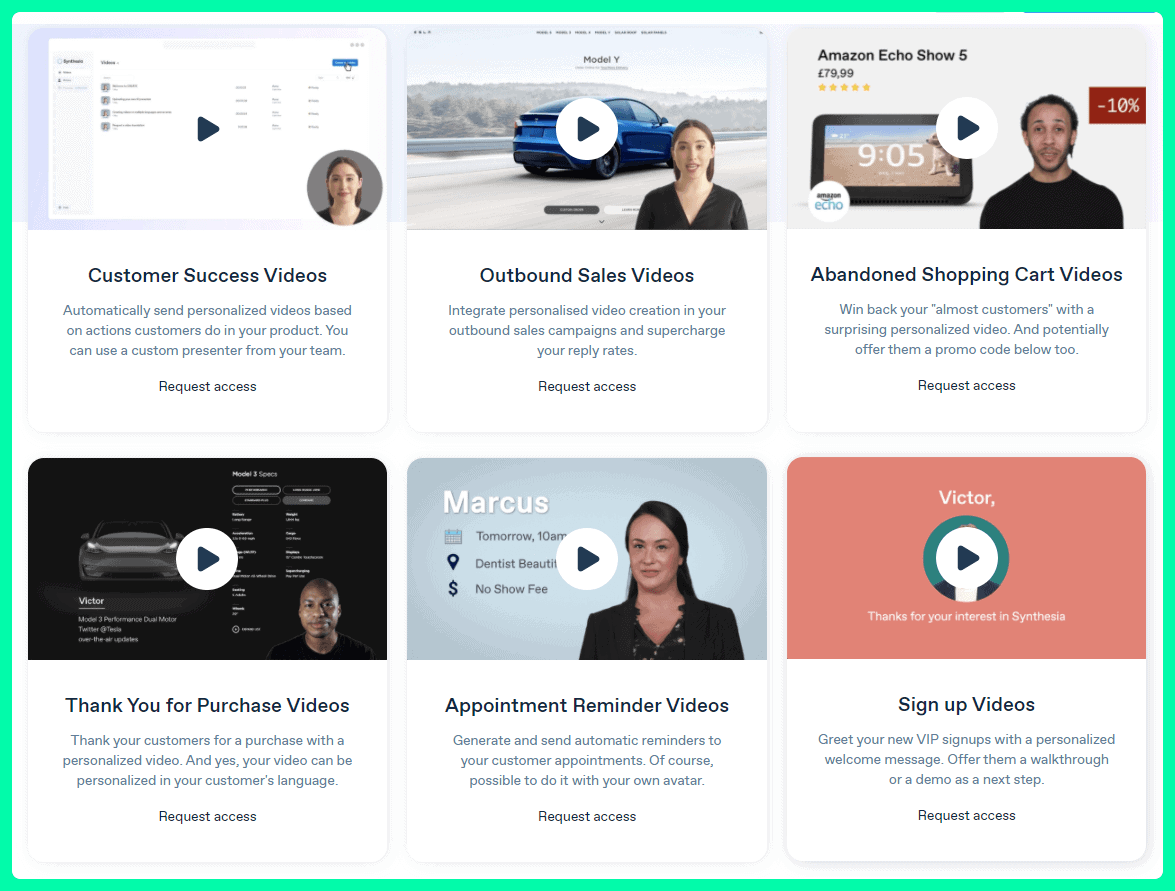 The Unique Customization Options
40+ languages supported: You can make videos in many languages. You will save money on production costs and you will reach a global audience.
You can make AI videos with these international languages.
Easily create and update content: You can easily create or update videos by clicking a button. If you need to change the script or video, just edit it and update it.
Export to your LMS system: You can export your videos to the LMS system. First, make the video. Then you can export it as a video file and put it in the LMS system.
Reach Global Audience: It is very easy to reach your employees who are from different countries. There is support for 40+ languages.
Create Custom Avatar: Create avatars of your staff members. Upload them to Synthesia and make video content with them. Record the avatars that you create.
There are more than 40 different AI avatars to choose from for free!
Synthesia.io Demo & Video Examples
When it comes to video editing, artificial intelligence is the real deal. The new Synthesia.io platform allows you to create videos with AI-generated faces and voices in a matter of minutes! Check out these examples videos created using the Synthesia.io AI platform for the proof:
— Example Video 1 —
— Example Video 2 —
— Example Video 3 —
— Example Video 4 —
Turn Your Scripts Into Videos With Synthesia.io
Do you need to make a video but don't have the time or resources?
Synthesia is a video creation platform that lets anyone create professional-quality videos from your script. You can use it for your business, school project, or even your personal blog!
With Synthesia, you'll never have to worry about production costs again. You can create as many videos as you want without having to spend hours editing them together! Plus, this platform got tons of backgrounds and music tracks that will help you get started on making your own masterpiece right away.
Synthesia.io More Focused For Corporates, Agencies & Freelancers
If you are a kind of freelancer you may receive a lot of orders on sites like Fiverr or Upwork. So you can not shoot videos quickly and easily even if it is 1 minute long. Synthesia.io is created to solve your problem. Now you can sell more videos and expand your earning potential because Synthesia.io only requires you to put a simple text. Then your text will be converted into professional human videos without filming yourself on camera. No need for the studio setup or even a mic. Synthesia.io platform has everything you need to create a professional life-like video in minutes not weeks, days, or even hours.
People won't find Synthesia.io videos as AI videos because it is realistic. I hope you watched the example videos created using this Synthesia.io video creator platform. If you save time using this platform now it's too time to sign more projects which means more money.
Synthesia.io Review – The Complete Features Breakdown
Text to the video: Turn simple text into a video. You can make videos that are up to 30 minutes long.
Personalized videos: Build a journey that is personal for your customer. For example, when someone buys something, you can create an onboarding video. Or make a video to say thank you.
40+ Languages: Synthesia.io supports many languages and is adding more accents and voices to the platform. You can see them here:
40+ AI avatars: Synthesia lets you choose from 40+ avatars. The company is always adding more, and you can see them here.
Custom avatars: You can make your own presenter. You only need to do it for 5 minutes. That is a paid add-on feature. Read more about it here.
Custom backgrounds: You can upload any photo as a background to your video. The best resolution for this is 1920×1080. You can also use free slide templates so you have some inspiration.
Audio uploads: Record your voice and upload it to make videos with a robot person. You can only do this if you have the business version of the program.
Background music: There is a place you can go to find background music for your video. You can add the music there, and then it will play in the background of your video.
MP4 downloads: Each video is in Full HD (1920×1080) resolution. You can download them from the platform.
Video sharing pages: Each video gets a page on the internet. Upload your video to show people. Share it with friends or coworkers.
Multi-slide videos: Combine several videos together. You can create a video that is rich with slides in just a few minutes.
Update video content: With Synthesia, you can make videos that are like old versions of a video. You can change the text by duplicating the video and changing what it says. This is really fast.
Add text, images, shapes: With Synthesia, you can add text, images, or shapes to your video. It is easier and you don't need to switch between different tools.
Creating videos at scale: Synthesia.io is an advanced API that you can use to create a personalized experience for many different things.
API: You can now make your own chatbots and videos. You can make automated videos, too.
How Is Synthesia.io Better?
Video-making is hard. You need to set up a studio, film the video, and edit. If you use Synthesia.io, it's easier because this software will do it all for you without you needing to waste time on other things like setting up a camera or microphone or anything else. All you need to do is write a script and let Synthesia take care of the rest!
Synthesia.io is the only platform that can create 100% human-like AI presenter videos with natural voice-overs.
Not one, two but there are over 40+ human-like AI presenters inside this platform. Most people in this world are not able to differentiate between humans and Synthesia.io's AI presenter. Can you?
Unlike other video creation software such as Human Synthesys Studio(slightly robotic), Syhtesia produces videos with real humans. You'll never be able to tell the difference between a human and an avatar in this world-leading platform. The text-to-speech voices are 99% natural-sounding so you can't even tell they aren't speaking from their own mouths!
Also, you can make your own AI human presenter. You can order one when you place a request. The person will be created for you.
Who Is Synthesia.io A Perfect Fit For?
It is one of the best video creation platforms for businesses, agencies, and corporates.
Corporate Companies: Synthesia.io is a revolutionary video-creation platform that can help you create life-like videos without any studio setup or team of people making them. All it needs is just one script and the platform will do the rest, including filming, editing and finally rendering the video in HD quality.
Business Owners: If you are a business owner who struggles to promote your products and services through videos then Synthesio.io is for you. This software will save a lot of time and money because no video editing skill is required. You can use this software to create professional, high-quality marketing videos in minutes!
Marketers: Synthesia.io is the best video creation platform that uses life-like AI humans avatars that allow marketers to quickly and easily create professional videos for their products or services in minutes instead of hours – saving you time, money, and stress! So you will get better conversion, leads, and sales than ever before.
Entrepreneurs: For entrepreneurs looking to start making videos and build a business around them, the Synthesia.io video creation platform is perfect for you. It has some key features that are essential for anyone looking to create professional-quality videos without any prior experience in videography. No studio is required.
Agencies & Freelancers: If you are on a deadline with a lot of video projects, then Synthesia.io is for you! You can create videos using this video creation platform just like that. It only takes a few minutes to learn how it works and start creating your first project. So you can sign more projects and earn more.
Not sure where to start when it comes to making money online? Synthesia.io's video creation platform allows anyone to produce high-quality videos for businesses or corporations at a fraction of the cost it takes. No one can tell the difference between real human-made videos and the AI presenters of Synthesia io.
Customer Support – Always Ready To Help You
Synthesia.io is not only the top-notch video creation service but also has the best customer service. We can expect better customer service to come in future Synthesia products as well!
In case you have any trouble regarding payment solutions or errors while using Synthesia apps, simply log in and visit your account homepage where a widget will show on the right side of the screen for instant help – click it and they'll instantly fix whatever is wrong with your app without delay.
When I had trouble with my credit card, I thought that it was the end of the world. You see, Synthesia is a subscription service and if you don't pay your monthly fee then they won't allow you to access any features or anything for their program!
But when I called them up on Live chat support at 11:00 pm EST, an agent helped me get out of this problem in just one hour flat!. Thank goodness there are some awesome people behind these customer-service lines who can always come through for us no matter what time we need help from them.
Synthesia.io Learning Resources – Case Studies and Video Training
The Synthesia video creation platform is a powerful tool that can be used for both training and marketing purposes. It's easy to use, which makes it perfect for beginners.
But don't let the fact that this software is intuitive fool you: there are many different ways to use it, depending on what your needs are. And if you're looking for some inspiration, we have compiled a list of case studies from real customers who have shared their work with us!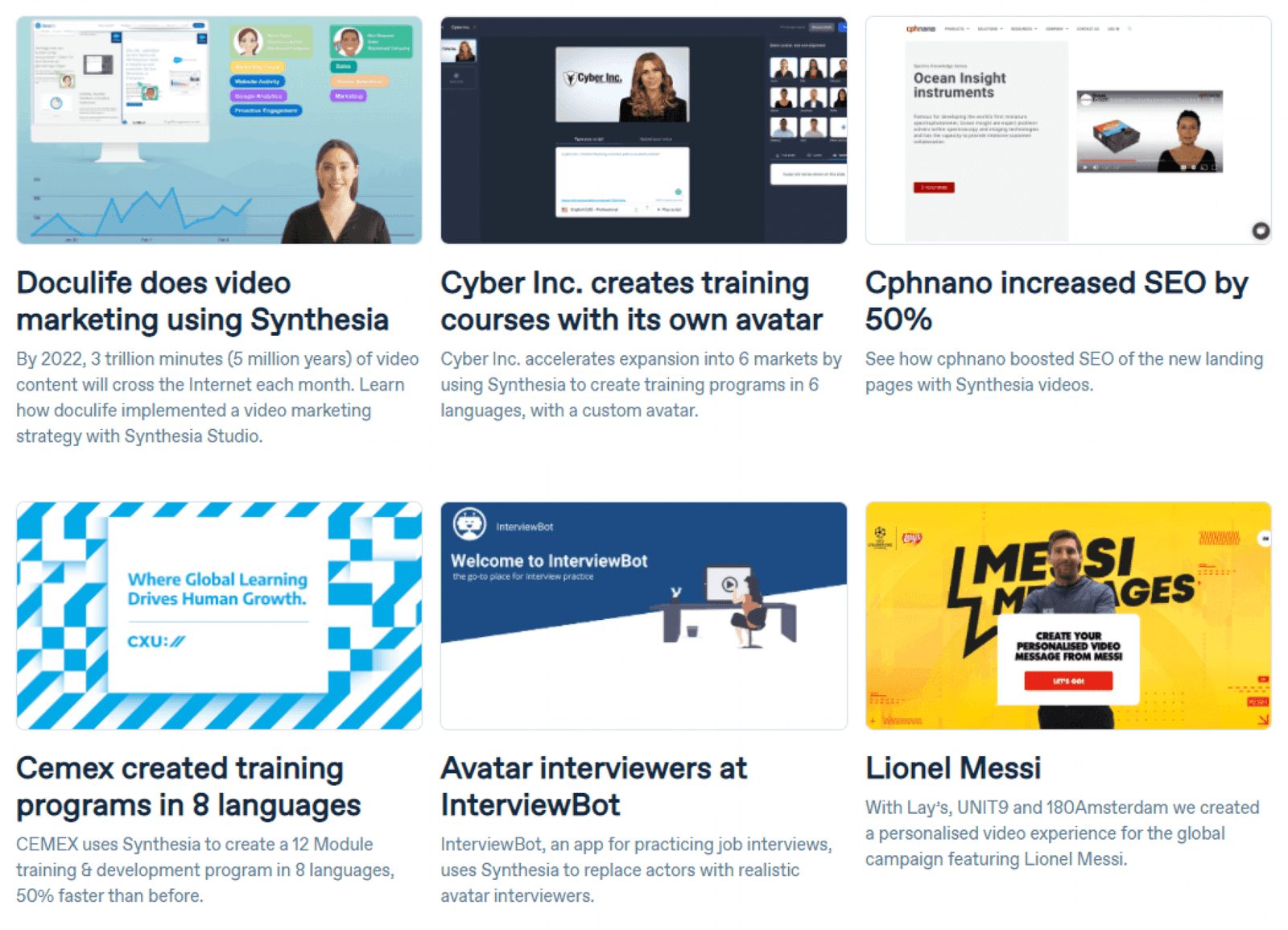 There are many video creation programs but none of them is as easy to use as Synthesia. Anyone can make a video without having to learn many new skills. It's perfect for people who want to start making videos but don't know where to start or what they need. For more information on how this program works, you will find "How To Guides" in the next part of the tutorial section that will walk you through it step by step.
If you have some small doubts and questions about this Synthesia video creation platform, don't worry. They have a page with many of the common questions other people have asked before. If you can't find an answer to your question on that page or in a chat, email them and they will get back to you soon!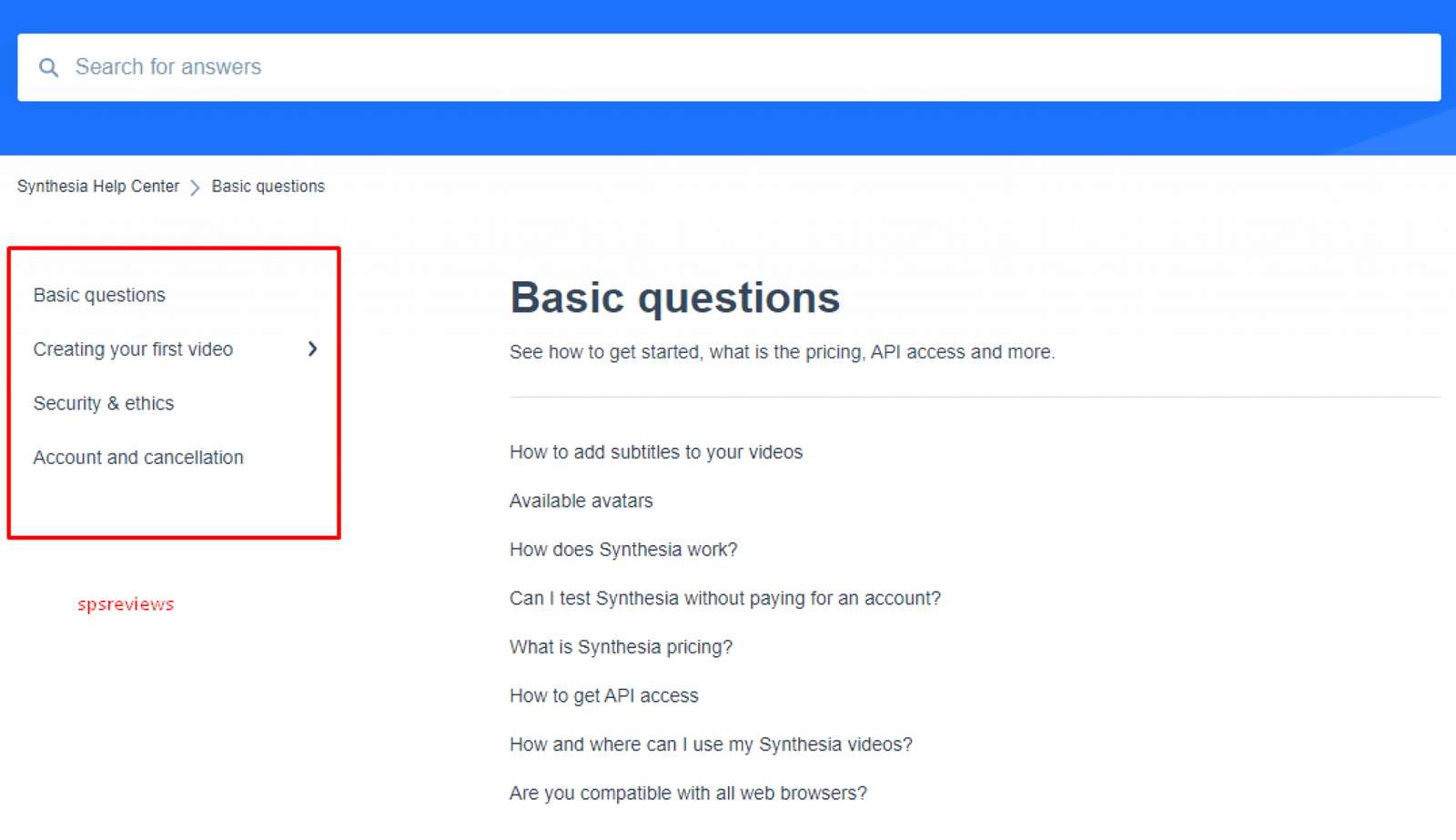 Synthesia.io Review – My Honest Opinion
Creating awesome videos is a tough task. It requires lots of time and money to make it perfect.
Now you can create your own professional-looking video with just one click using Synthesia software. You don't need any expensive equipment or editing skills. Just write the script, hit the record button, and see how easy it is to convert text into real human-like videos instantly!
With Synthesia, you get an opportunity to save yourself from all the hassle that goes along with creating great-looking videos by hand! All you have to do is enter some simple text in our app's interface, choose a style for your video and hit "Record" – everything else will be done automatically! The result? A high-quality, realistic-sounding voiceover that will help your message reach its audience like never before!
Synthesia.io Has Got Amazing Customer Feedbacks
Synthesia allows us to translate videos so we can communicate with people who speak different languages. This is good for places that are far away from where we live.
---

Synthesia helps people around the world sell their products. This is because it changes how they enter the market. For example, language is very important when you are selling your products so this makes a big difference. Synthesia also has advanced technology that can't be seen by anyone who doesn't know about it.
---
Synthesia is a game-changer. It is very impressive to see how quickly they convert assets.
---
Our partnership with Synthesia helped us reach millions of more people. They have technology that makes it easy for people to watch videos in a virtual reality setting.
Synthesia.io Pricing Details
Synthesia.io has two different pricing plans. The basic plan is enough for people who want to make short ads.
If you want a lot of videos with features like advanced ones, then you can get custom pricing. That means that depending on what you need, the price will be different.
10 video credits / month
Text to video
40+ languages (test them)
40+ built-in avatars (see them)
Custom backgrounds
Background music
Mp4 downloads
Video sharing pages
Update video content
Video background
Add text, images, shapes
Up to 6 clips per video
Min. 200 video credits/month
All Personal plan features
Up to 50 clips per video
Priority support
Audio uploads
Access to premium services
Custom avatar (with the annual deal)
Branded share page
API access
Synthesia.io FAQs
Is There Any Synthesia.io Alternative?
There are many tools that claim to be able to create a life-like human video with proper lip-syncing, but Synthesia is one of the few programs out there that can fulfill this promise. With so much competition in the marketing world right now it's hard for any program or company to live up to its expectations and promises. In my opinion, look no further than Synthesia because they have what you need!
Is Synthesia.io Free To Use?
They may offer a subscription with a free trial. You need to put in your billing information if you want to sign-up for the free trial. If you sign up for the free trial, you will not be charged until it is over. On the last day of the free trial, unless you cancel your subscription, they will charge your card for the type of subscription that you chose.
Can You Suggest Some Synthesia.io Free Alternative?
Since these AI tools are very premium, the developers need to put a lot of work into maintaining and upgrading their servers. I think it's no way of getting free tools like Synthesia. These types of tools may offer a free trial for a few days but ultimately you'll have to pay for it in order to use the premium features
What Is Synthesia.io Pricing?
Synthesia has two pricing plans: the Personal plan, which costs $30 a month; and the Corporate Plan with custom pricing. The best deal is made for you after you contact Synthesia's sales support to tell them your requirements about your company.
Is Synthesia Video Creator?
With Synthesia, you can create human-like videos in minutes. Unlike other video creation software that requires complicated editing skills to get the desired product, all you need is a text! When your typed words are converted into professional AI human videos with proper lip-syncing and even facial expressions.
Can You Show Me a Synthesia Io Demo?
Sure! Here is the demo video (walkthrough video) of Synthesia video creator.
Does it worth the price?
Synthesia is software that allows you to make videos with only 10 minutes of work a week. The best part about it, though? It costs $30 per month and the quality exceeds anything else on freelancing sites like Fiverr or Upwork by at least 5 times! If you're looking for better visuals in your videos without breaking the bank then this might be worth checking out.
Conclusion – Synthesia io Review
The process of creating and promoting a video can be daunting. It takes time, money, and effort to produce an effective promotional video that will help you stand out from competitors in the marketplace. With Synthesia's human synthesized videos, we're able to create professional-looking marketing content with just minutes of work!
We don't have to spend hours or weeks on end editing a project when we use our new tool for quick results. Not only are they easy enough for any novice user (or beginner) but they also look like they were created by a real actor due to their high-quality animations–making it easier than ever before to stay relevant in today's competitive digital world! If you want more information about how this works, visit their official website by clicking the below button.