Stunning graphics are essential for making a powerful impact online. But hiring designers or wrestling with complex software like Photoshop isn't always feasible.
What if you could create sleek, professional visuals in minutes with no graphic design skills?
ClickDesigns makes this possible through its expansive library of customizable templates and intuitive drag-and-drop editor.
This groundbreaking software allows entrepreneurs, bloggers, agencies, and businesses to take graphic design into their own hands. No prior experience required.
In this extensive ClickDesigns review, I'll cover everything you need to know about its features, capabilities, pricing, and more.
You'll see how this tool can help you produce quality graphics tailored to your brand and needs in virtually no time. Without breaking the bank in designers fees.
By the end, you'll know if ClickDesigns is the right choice to create captivating visual content that makes your work stand out.
So if you're looking for an easy way to take your online graphics up a notch, read on!
What Is ClickDesigns?
ClickDesigns eliminates the complexity of graphic design by providing an intuitive platform for creating logos, social media posts, sales pages, and more without any prior experience.
It comes packed with hundreds of customizable templates covering various niches. Simply edit the layouts by dragging and dropping your own images and text. Within minutes, you can have unique, professional-looking graphics ready to go.
Forget struggling with Photoshop or hiring expensive designers. ClickDesigns makes graphic design easy and affordable.
How Does ClickDesigns Work?
ClickDesigns works in just four easy steps.
Step 1: Log in to the dashboard
Once you have purchased ClickDesigns, you will need to log in to the dashboard. You will then be able to access all of the templates, graphics, and design tools that are included in your membership.
Step 2: Choose a template
If you want to start with a template, simply choose the one that you like the best or if you want to create a design from scratch, you can do that too!
Step 3: Customize your design
With ClickDesigns, you have complete control over your designs. You can customize them to match your brand or style. You can also add text, graphics, and images to make them look really professional.
Step 4: Download your final design
Once you are happy with your design, you can download it in one of three popular formats png, jpg, or pdf. You can then use the design however you like such as sharing it on social media, using it for a print marketing campaign, e-commerce store,e and more!
If you don't know how ClickDesigns works, watch this video to get a better understanding.
What ClickDesigns Can Do For You?
Website Graphics: With ClickDesigns, you can easily create beautiful graphics for your website without any prior experience or knowledge! The software offers a wide range of templates to choose from and offers an easy-to-use drag & drop editor so you can create website graphics in minutes.
Create marketing materials: With ClickDesigns, you can quickly and easily create high-quality marketing materials such as flyers, posters, postcards, and more. All without any prior graphic design experience or skills!
Social media content: ClickDesigns makes it easy to create stunning social media content easy and fast. You can quickly create graphics for your Facebook profile picture, Twitter header image, Instagram posts, and more.
Sales pages: ClickDesigns is also great for creating high-converting sales page graphics. The software offers a wide range of templates that are specifically designed for sales pages, so you can create a beautiful and effective page in minutes.
Logos & Favicons: ClickDesigns comes with a wide selection of logo and favicon templates that you can easily customize to create a unique and professional-looking logo for your business.
3D product mockups: With ClickDesigns, you can easily create 3D product mockups to showcase your products in a realistic and eye-catching way. This is great for eCommerce businesses, as it can help increase conversions and sales.
Not only these, but you can also use ClickDesigns to create a wide range of other graphics such as book covers, 2D & 3D boxshots, infographics, email headers, and much more! This also includes a blank canvas to create designs for any purpose with a drag-and-drop editor.
Overview
| | |
| --- | --- |
| Product Name | ClickDesigns |
| Product Creator | Mo Latif |
| Release Date | 2022-Feb-02 |
| Release Time | 11.00 EDT |
| Front-end Price | $49.95 |
| Bonus | Yes |
| Money Back Guarantee | Yes, Up to 30-days |
| Official Website | https://clickdesigns.com/ |
| Product Category | Software |
| Recommended or Not | Recommended |
For whom is ClickDesigns?
ClickDesigns is a great choice for:
Bloggers needing eye-catching images for articles
Entrepreneurs wanting branded designs on a budget
Startups desiring quality graphics without hiring a professional designer
Freelancers who offer graphic design services to clients
Agencies looking to create content efficiently
Anyone wanting an easy way to make great graphics for their business or personal use
Even if you have no background in graphic design, you can make professional-looking creations tailored to your needs with ClickDesigns.
ClickDesigns Pricing and Evaluation
With ClickDesigns Commercial which is the main front-end offer, you get 500 templates, including logos, book covers, and more. Plus, you also get access to a product bundle template designer. The whole package costs $47-97.
ClickDesigns Bundle Deals & OTOs
ClickDesigns OTOs/upgrades are 100% optional, and you don't have to get them to use the main features of ClickDesigns that I mentioned before. But these upsell have some advanced features that might be useful for you.
When it comes to buying ClickDesigns upsells, you have two options. Either you can buy ClickDesigns one by one after you purchase the front-end offer or you can can get all of the upsells at once by getting the ClickDesigns bundle deal.
ClickDesigns Bundle is a special one-time offer costs $297 which includes both front-end and all the upsells of ClickDesigns.
ClickDesigns OTOs
OTO1 ($97-197): ClickDesigns Unlimited gives you access to 2000 templates including extended logos and BoxShots.
OTO2 ($77-97): ClickDesigns OTO 2 is the Professional edition which gives you access to 1000 templates for magazines and worksheets.
OTO3 ($67-97): ClickDesigns OTO3 is the Design Pages edition offers 3000 additional templates for backgrounds, website themes, custom illustrations and annotations.
OTO4 ($197-297): OTO4 is the Agency Upgrade that lets you have unlimited template usage as well as an agency branding kit add 10 team members.
The Top Features and Benefits
Drag-N-Drop Design Editor:
The drag-n-drop design editor is one of the best features of ClickDesigns. With it, you can easily and quickly create professional graphics by simply dragging and dropping images and text into place.
Custom Design Tool:
The custom design tool is good for people who want to make their own graphics. You can put your own pictures and words in it, or use a different style of font, color, or layout.
Save Design Templates:
One of the best things about ClickDesigns is that you can save your designs for later use. This means that you can come back to them later and edit them or use them for other projects.
Done For You, Fully-Customizable Templates: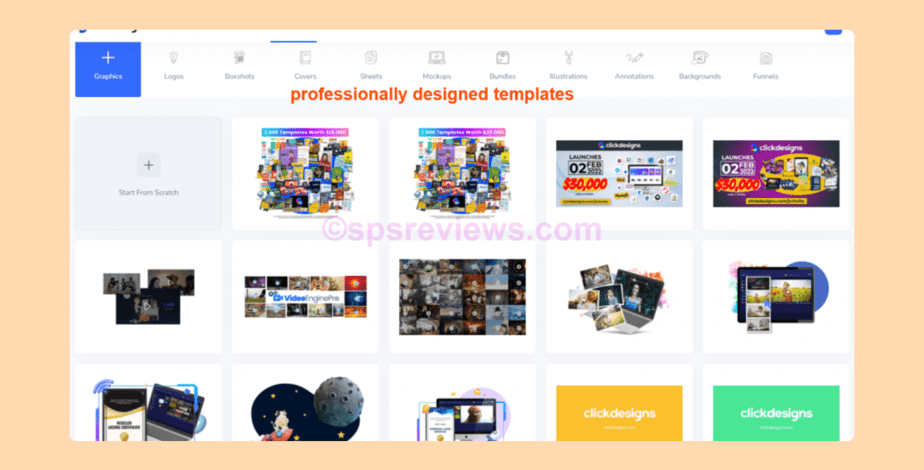 ClickDesigns has a wide range of professionally designed templates that are fully customizable. So you can take any of the available templates and edit them to fit your needs.
Favicon Creator:
With ClickDesigns, you can create awesome favicons in just a few clicks and without any skills whatsoever.
Flat 2D & 3D Design Templates:
ClickDesigns offers templates for flat, 2D, and 3D book designs, report designs, and BoxShot designs.
Product Mockup Design:
With ClickDesigns, you can create beautiful mockups for any product in a few clicks. These designs work great for social media posts, websites, and blog posts.
Digital Device Mockup Design:
ClickDesigns also offers digital device mockups, which you can use to create a product preview in a realistic setting.
Product Bundle Design:
You can also create a product bundle design, which you can use as a bonus offer for any of your products or services.
Sales Funnel Graphics Templates:
ClickDesigns comes with templates for sales funnel graphics that you can use to create professional-looking promotions, advertisements, and offers.
Annotate Tool:
An Annote tool is a great option for you to use if you want to make your graphics look more professional. With it, you can add a shadow or opacity effect to any object on the page.
Reflection Tool:
With this tool, you can create impressive images that look like they have a reflective surface.
Instant LIVE Preview:
See how your graphics look in real time. No more waiting around to see how a design will look when it's finished!
Illustration and vector Library:
You have access to thousands of vector illustrations and icons that you can use in your graphics. This is a great feature for those who are looking to create really professional designs that stand out.
Multi-Angle Layout Views:
If you're trying to create a 3D design, you won't have to guess how it will look from any other angle. With ClickDesigns, you can view your designs from different angles before they're finalized.
Unlimited Projects/content:
Create unlimited graphics, and designs for you or may for your clients. You have no more restrictions on how many designs or graphics you can create with ClickDesigns.
Stock Image Library
With the built-in stock image library, you will save hours of time searching for images. Simply choose the stock photo that fits your design, and drag it into place.
Premium Fonts:
ClickDesigns also comes with access to premium fonts. You can use these fonts in your designs to give them a unique look that matches your brand.
Watermark:
You can also add a watermark automatically to your designs to protect them from being copied or used without your permission.
Search Designs Or Templates By Tags:
Easily find designs that meet your needs by searching for them by tag.
Multi-Formats (png, jpg & pdf):
ClickDesigns allows you to download your designs in three pop.
How is ClickDesigns Better?
ClickDesigns beats other options in several ways:
Simplicity – Easy drag-and-drop editor with quality templates makes graphic design accessible to all. No complex software needed.
Affordability – For only $49.95, you get all the tools and assets for creating great graphics for any purpose.
Customizability – The template library ensures you can tailor designs to your specific needs.
Quality – Templates and toolset allow you to make polished, professional visuals.
Beginner-Friendly – No graphic design experience or skills needed to start creating.
Speed – Intuitive interface and templates allow you to complete projects faster.
Versatility – Create a diverse range of graphics for both business and personal use.
For non-designers, ClickDesigns provides an inexpensive and easy way to make custom, high-quality visuals on your own.
Pros and Cons
Pros:
Drag and drop editor is easy to use
Wide range of professional templates to choose from
No prior design experience or skills required
Can create a wide range of graphics quickly and easily
Affordable pricing plans
24/7 customer support is available
Lots of fonts, icons, elements, shapes, and background images to choose from
Graphics are high quality and look professional
3D product mockups are realistic and eye-catching
The 30-day money-back guarantee offered
Customer support can be slow to respond at times
There are few upsells behind the front-end offer
A limited number of templates and assets compare to Canva
FAQ About ClickDesigns
Can I use my own logos, photos, and images too?
Yes! You can upload your own logos, photos, graphics, and images into ClickDesigns. This will help you keep your branding consistent and look exactly how you want it to look.
Do I have to install anything on my computer?
No need to install anything. ClickDesigns is a cloud-based software application so it doesn't require you to install anything on your computer.
Are the graphics and photos inside ClickDesigns free?
Yes, all the photos and graphics inside ClickDesigns are free. You don't have to worry about attributing them when you use them in your projects.
How many upgrades ClickDesigns have?
Currently, there are four optional upgrades for ClickDesigns. ClickDesigns Front End – $47-97, ClickDesigns OTO1: Unlimited Edition – $97-197, ClickDesigns OTO2: Professional Edition – $77-97, ClickDesigns OTO3: DesignsPages Edition – $67-97 and the last one ClickDesigns OTO4: Agency Upgrade – $197-297. These upgrades are 100% optional to you but you need them to get the full experience of this amazing graphic design software.
What can I do with ClickDesigns Front End?
With the Front End, you will be able to create unlimited designs and graphics for yourself and your clients. You also have the ability to upload custom photos and logos so you can keep branding consistent across all your projects.
Is there any free trial option for ClickDesigns?
Currently, there is no free trial available. I hear that the creator is going to charge a monthly fee for ClickDesigns. If the monthly subscription is live then there may be a free trial available soon.
ClickDesigns Review: Conclusion
For bloggers, entrepreneurs, freelancers, and other non-designers, ClickDesigns is a great choice for DIY graphic design.
It makes creating professional graphics easy through its drag-and-drop editor and library of customizable templates. With no specialized skills needed, anyone can design stylish images from scratch tailored to their needs.
While pricier options like Canva exist, ClickDesigns provides strong value at only $49.95. The optional upgrades also allow you to expand its capabilities if desired.
Overall, if you want an affordable, user-friendly way to design quality graphics yourself, ClickDesigns is worth checking out. It can save you time and money compared to hiring designers.
I hope this detailed ClickDesigns review helps you decide if it's the right graphic tool for your projects and needs!
Now let's see what bonuses you will get if you become a user of ClickDesigns today!
ClickDesigns Bonuses:
Here is how you can claim my bonuses:
Step 1: CLICK HERE or any one of the above/below buttons to get ClickDesigns from the official website (If you have already ordered skip this step).
Step 2: Submit your payment receipt to my email id (bonus.spsreviews@gmail.com). You will get all my bonuses to your email id within 12 hours.
SEE ALL MY BONUSES
Here is how you can claim my bonuses:
Step 1: CLICK HERE or any one of the above/below buttons to get ClickDesigns from the official website (If you have already ordered skip this step).
Step 2: Submit your payment receipt to my email id (bonus.spsreviews@gmail.com). You will get all my bonuses to your email id within 12 hours.