Introduction
Content is always the ultimate king in this competitive marketing. For any business, it is necessary to create high-quality, unique, and plagiarism-free content which helps to achieve their goal and increase the financial outcome.
Writing effective copy can be a challenge for many people who want to use professional copywriting but they don't have much experience and knowledge about it.
Writing an amazing blog article, ad copy, email message, landing page, and sales funnel copy must need creativity along with the writing experience. This is the reason why people are looking for content writing services.
Some people use article spinning tools to spin the existing content to make it unique but the problem is that they use synonyms and they produce low-quality content. As a marketer, you should produce content for people not for search engines.
This is why many marketers train robots to write content from scratch. One of the tools that have got my attention is called Jarvis! It promises you can create high-quality content.
According to the creators, Jarvis uses an advanced AI (GPT-3) to write any content you may think of. It is trained on millions of books, ebooks, blog posts, newspapers, emails, ad copy, and sales scripts to create unique success!
So the big question is, is Jarvis worth your money? Does it work as it says on the sales page? Let's go through my complete Jarvis AI Review for a better picture.
What Is Jarvis AI?
Jarvis AI is a software program that uses artificial intelligence to help people write creative copy for their blog posts, social media posts, email messages, landing pages, sales funnels, product descriptions, website content, scripts, stories, books, etc. Jarvis uses machine learning which provides the opportunity to generate high converting content.
Jarvis AI Overview
Who Owns Jarvis AI?
Jarvis AI is the latest project by the same team that created useproof.com, which was one of the most successful tools for marketers in recent years and had more than 20k people using it just within a year after its launch date (Feb 2021).
This business has been led by Dave Rogenmoser since inception and now he's got an entire experienced team with him to help build up Jarvis as the next big thing on this field!
Dave has recently raised over 6 million USD to take Jarvis to the next level because this tool has a very high potential for future success. In my Jarvis.ai review, you will find out how powerful a tool this is.
What Jarvis Can Do For You?
Jarvis.ai Features Review
1.Copywriting Templates
Jarvis is the best AI-powered copywriting assistant that you can have to help create better content, for any goal!
It's like having 40+ copywriters all in one document – it will make your life easier by helping with things such as blog introduction and storyteller if needed.
You can just switch between these skills when building out your perfect piece of content without needing to change anything else so you don't get lost too much on what needs to be done next.
And every update makes Jarvis AI even more helpful than ever before!
Jarvis has learned over 40+ skills in copywriting. Jarvis knows how to write using the AIDA Framework, Problem-Agitate-Solution (PAS) Framework, Product description, Content improver, Creative Story, Blog Post Topic Ideas, Blog Post Outline, Blog Post Intro Paragraph, and many more.
2.Original Content
Many people wonder if Jarvis scrapes content from the internet or writes its own original content. Jarvis does not scrape content from the internet.
It writes original content using its intelligence. Since Jarvis is trained by expert copywriters it knows what to write with respect to your comments.
3.Long-form Assistance
The Jarvis's Pro plan unlocks the new long-form assistant – it has never been easier to get quality content without having to spend hours on research and writing.
With this feature, it will take care of all your article creation needs from start to finish – just tell Jarvis what kind of post you want and it will make it happen in a few minutes.
No more wasting time with formatting or SEO worries when using this Jarvis AI long-form assistance!
4.Power Mode
With Jarvis's power mode, you can seamlessly use both document editor and all the 40+ copywriting skill templates to create your content with just one click!
No need to go back and forth between different templates while working on a document – if you switch into the power mode any template will be there in the left-hand sidebar so that it is easy for you without letting your work distracted.
5.New Boss Mode
With Jarvis's new boss mode feature, you can finish writing 2x faster by becoming a boss to Jarvis, where your consciousness is copied into an advanced artificial intelligence which will then guide and assist with writing tasks.
Type any sentence or command like "Jarvis, write an ad copy for my learning store" to activate this amazing technology that will work seamlessly in tandem with your thoughts.
6.Surfer SEO Integration
You don't have time to write good articles or to make them better for search engines? Jarvis helps you do this.
It will analyze your article, and then tell you what words it needs and changes it needs to rank in Google's search results.
The new integration with Surfer SEO will walk you through a step-by-step process that makes sure your article ranks high in Google's searches for specific keywords.
7.Supports 25+ Languages
Jarvis (a machine) can help you to write, and translate your words in 25 different languages. It's best for people who want to reach customers across the world.
You just need to speak one language at a time, and let Jarvis do the rest!
If you are writing a blog in perfect American English, but have customers all over the world, then Jarvis is good for you. It can do everything for 25+ languages with only one click!
Some of its language-specific features include ?? English (American), ?ᴬ French (Français), German(Deutsch), Spanish and more.
8.Organize Projects With Multiple Folders
You don't have to worry about keeping files and data organized. You will be able to breathe when you are juggling project A and project B at the same time.
All of your notes can go in one place if you put them in folders by client or project. You can make specific tabs for each person, like "Client A" and "Client B." Then it will be easy to keep them organized.
9.Easy to Use User Interface
The Jarvis tool has everything at an organized pace with a clean and inviting interface that makes it easy to find what you need as well as create something new from scratch!
Alongside 40+ copywriting skills, the documents are arranged in order of how they're best used for your project such that if necessary, switching power modes will allow you to bring templates into the document editor page.
How Does Jarvis AI Work?
Step 1: Write a few lines of information about your topic/product/service. This is just an example template. You have 40+ copywriting templates + freestyle writer (boss mode).
Step 2: Click "Generate" and Jarvis AI will understand what you wrote and create compelling copies for you.
Step 3: Make edits and add your own personal touch if you want (optional).
Watch This Jarvis Demo & Walkthrough Video For More Clarifications
Can Jarvis AI Replace Human Writers?
Absolutely no! Because it is an AI copywriting assistant, not a human writer.
You can use this software to generate high-quality content which you can use in your blog posts, social media posts, ad copy, etc. But human editing is still required.
First of all, Jarvis AI uses machine learning and AI technology. I would say it is one of the best AI tools to generate high-quality content for you but it doesn't replace human writers completely.
Jarvis can create "the first draft" fast and this is the reason why people like it much more than other tools in the market these days.
To make the content rank well on the search engines you need to optimize it for it. This is when you need the excellence of human writers.
You can use Jarvis to help produce content that ranks then hire professional writers who can optimize, edit and publish it for higher rankings in SEO & SERP. Or you may use tools like Surfer SEO to do it yourself.
My point is that you should be creating content for your audience, not for Google. Is that make sense?
Jarvis can definitely produce high-quality content for any topic but still, you need to manually check everything so that your target audience is completely satisfied with your content.
Is The Content Written By Jarvis AI Good?
Ok, you may be thinking about how good Jarvis AI is whether it produces high converting engaging content or not.
Let me bring you some examples written by this AI copywriter. Take a look at the examples below.
AIDA Framework
AIDA is the oldest marketing technique in history. It has been used for centuries to persuade people's minds and actions – from ancient Rome to modern-day, this technique never fails! AIDA stands for Attention, Interest, Desire, and Action; a sequence of steps that marketers take with their customers in order to entice them into buying something or taking an action.
Output:
PAS Framework (Problem-Agitate-Solution)
Output:
Product Description
Output:
Marketing Angle
Output:
Personalized Cold Emails
Output:
Blog Post Intro
Are you struggling with writer's block? Let Jarvis write your opening paragraph, so that you can focus on what is important. This will overcome your writer's block.
Output:
Quora Answers
Output:
Poll Questions & Multiple Choice Answers
Output: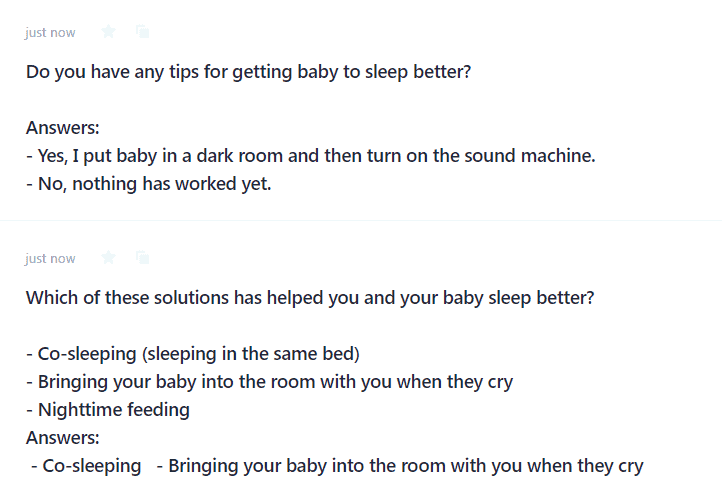 Facebook Ad Headings
Output:
Content Improver
Jarvis's content improver template can make your content more interesting, creative, and engaging.
Output:
Explain It To a Child
This module will change the wordy content into words that are easier to read and understand.
Output:
In four short months, I've tried all the 40+ copywriting templates. One of the things I love about them is the quality of the output. It really grabs human attention. In the next part of my Jarvis review, we will see some real-life case study whether Jarvis drives results or not.
Jarvis AI Case Studies
There are people who use Jarvis.ai (Conversion.ai) for their own website and there are also other users that I know about who have used it as well.
Jarvis lets people outrank their competitors. I have seen some really cool case studies of real-life users and myself. Let me give you some real-life case studies now.
Real-Life Case Study 1: Jarvis Written Answers Gets Engagement
This is my very own case study. I have been using Jarvis and its templates for months. I am really impressed with the Quora answer template, which vastly improved my engagement on Quora.com. In fact, it was so good that people started asking me to do more answers! I never thought it will happen. Take a look at the results of my Quora account.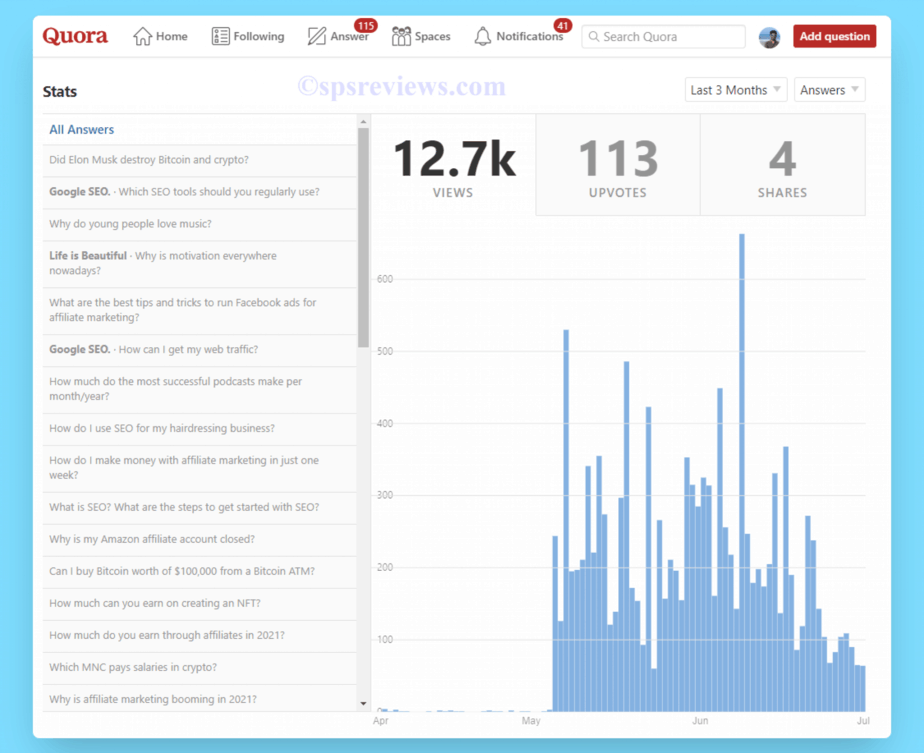 I have been answering people's questions on Quora for a little bit over one month, and I'm already getting noticed!
In just this past four weeks alone, my answers to other users' queries gained me 12700 views.
My 113 upvotes are nothing short of fantastic as are the 4 shares that you'll find in those responses – everyone loves Jarvis's intelligent answers!!
I was not sure if I should post this on Facebook or here but it is getting a lot of engagement so why the hell not!?
The Quora answer template by Jarvis has been really effective for me. Just take a look at how engaged with my posts – I got over 156 likes
Jarvis is a bad boy when comes to Quora answers.
Real-Life Case Study 2: Jarvis Written Blog Post That Ranks
Emily Cowe says: Jarvis is the best. He can write content that ranks high on Google! I'm currently ranking position #5 for a blog post he helped me with and it's only been up since last week. Jarvis wrote about 85% of this article, so no wonder why these rankings are going through the roof!

Here is the FB post she has made a few days ago
One of my FB friend, Morgan Crozier has been using Jarvis for a while and he managed to get top rankings on Google just by using Jarvis written content. He manages about 24 blogs all on different topics but struggles with writing more than one post every three days because it takes up too much time. Now that the AI is doing his work for him. Here is the proof of him.
I have been doing more case studies using Jarvis.ai and I'm excited to share my findings with you soon! So please bookmark my page because there are going to be lots of updates coming your way shortly about Jarvis copywriting software.
Real-Life Case Study 3: Jarvis Written Ebook Is No1 Seller on Amazon
Darby Rollins is one of the top marketers who use Jarvis to write some ebooks. So far he managed to write three awesome ebooks, and his last ebook called "Published With Jarvis" went #1 new sellers list on amazon- which proves that content created by this platform provides quality writing for any niche!
You can go to amazon and search for "Published with Jarvis" you will see this ebook…
I know I've been hesitant to make my own ebooks, but this case study has really inspired me. If I do decide to publish one using Jarvis's copywriting tool, you'll be the first ones who hear about it!
Who Is Jarvis AI For?
Jarvis is for people who need quality content fast without the high cost of hiring a content writer. Jarvis is for people who want to spend more time on their business and less time creating content. Jarvis is perfect for
Jarvis AI Boss Mode
Before going to discuss the Jarvis boss mode, I am going to show the templates. When you first log in to the software, you will see the initial interface look like this.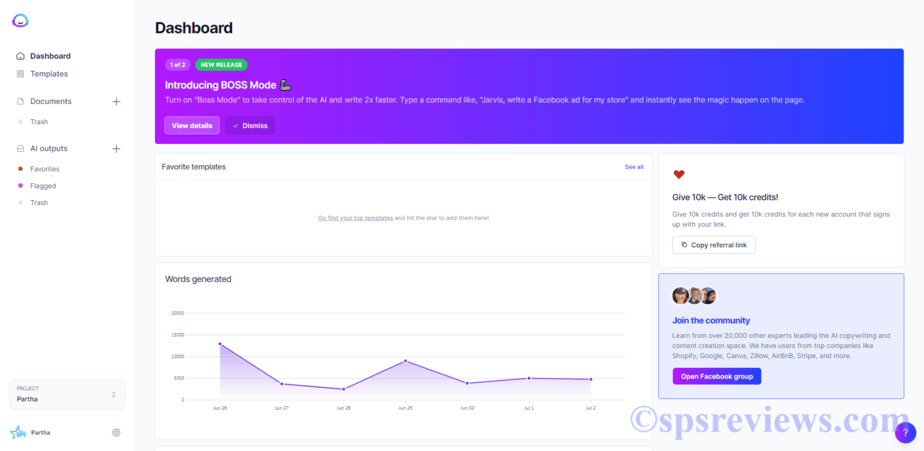 To start writing your copy, you can either use templates from Jarvis or start with a blank document.
Templates are a way to do specific tasks. For example, you can use templates for AIDA (attention, interest, desire, action), or PSA (problem-agitate-solution), or product descriptions.
First, I will show you the template section. For this example, I will be using PAS (problem-agitate-solution).
Jarvis can write a better copy for you. Simply put the brand or product name and say what it does.
I wrote a sentence about SEMRush in this field and see what Jarvis AI wrote in the right sidebar.
This is how you use the templates. I have copied and pasted an example of what a template will look like.
Problem: You want to find a tool that will help you analyze your competition and get more visitors, leads, or customers.
Agitate: There are thousands of tools out there but most of them have the same features. If you use one of those tools it's just like using Google Analytics, Facebook Insights, or any other free analytics software – they all tell you what is going on with your website right now in real-time. This gives very little insight into how things work overtime and why they happen.
Solution: SEMRush takes data from multiple sources (Google Analytics, AdWords) and puts it together in an easy-to-read report for you to quickly understand where your site stands compared to others in terms of traffic and SEO performance so that you can make informed decisions about future actions needed for growth!
Jarvis writes content that is plagiarism-free. I have done many tests and found that Jarvis only writes unique content. I never saw any duplicate issues when I did the tests.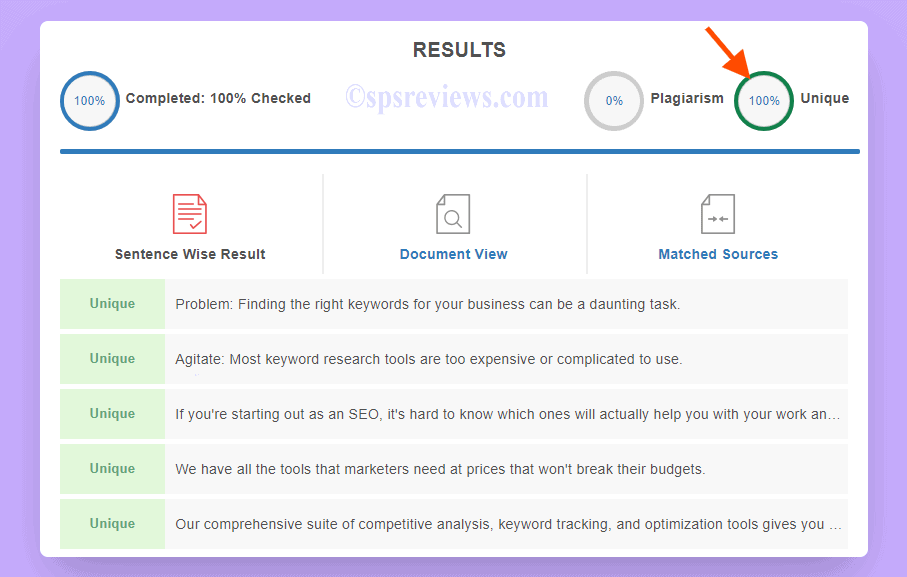 This is just one of the templates that Jarvis (Conversion.ai) has. The steps are easy to follow and you do not have to worry about complicated steps.
Using Jarvis Boss Mode To Write Longer Content
If you want to write long writings such as blog posts, social media posts, stories or recipes then using the document is more convenient for you.
There are two different options. You can either make a blog post from scratch or start with a blog post workflow. One is to make one yourself and the other is to start with a template. Let me explain them separately.
Let us start with the "Start from scratch" option.

You can type a few lines about your topic. For example, "What is the best thing to eat for breakfast?" Write a line related to this topic then press CTRL+ENTER.
In this example, I asked Jarvis to write an outline for how someone could become a digital marketer. Here is what Jarvis wrote: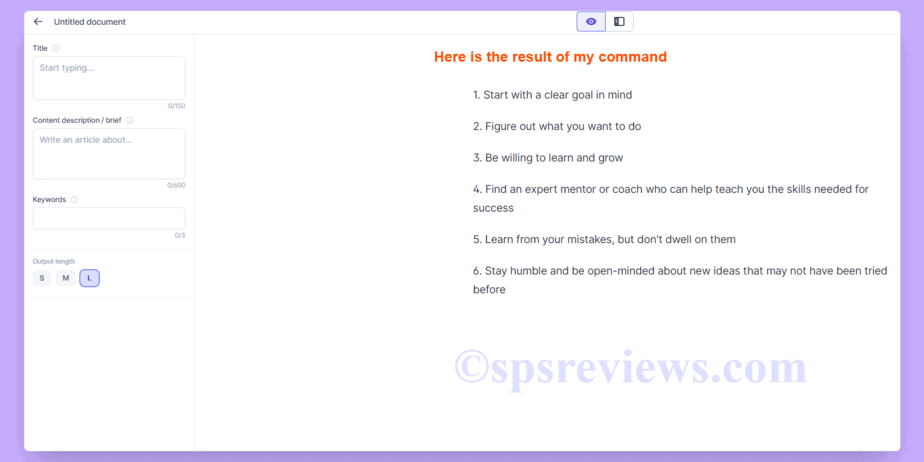 Now you can use those blog post outlines to write a full-length article that will rank better in search engines.
When you highlight the text, an editor pops up where all of your highlighted words are automatically set as Headings 1 through 3.
This is helpful because Jarvis understands what each section should be about and generates specific topics for every paragraph–meaning we don't have to spend time brainstorming titles or balancing long sentences with short ones!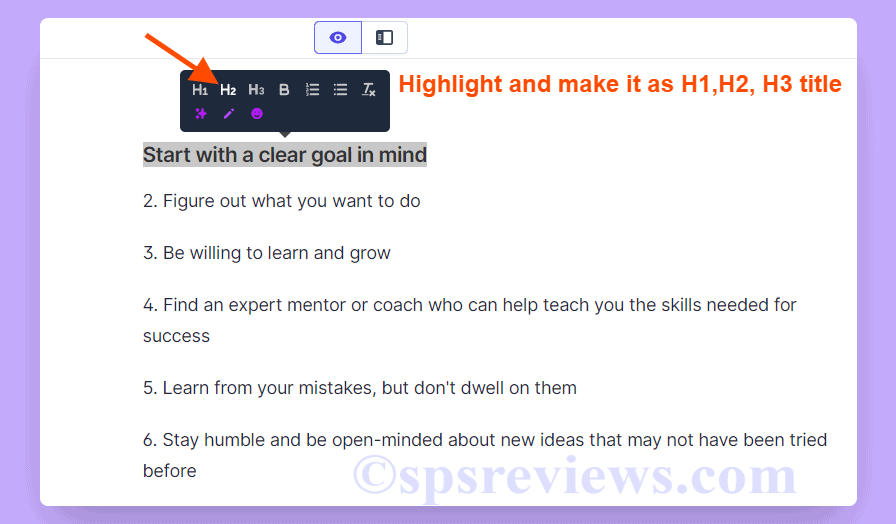 I have highlighted the text and set it as H2, which means that once I press (CTRL + J), Jarvis will start writing content for this sub-topic. Likewise, you can make other headings in order to complete your article simply by pressing (CLTR + J) under each one of them.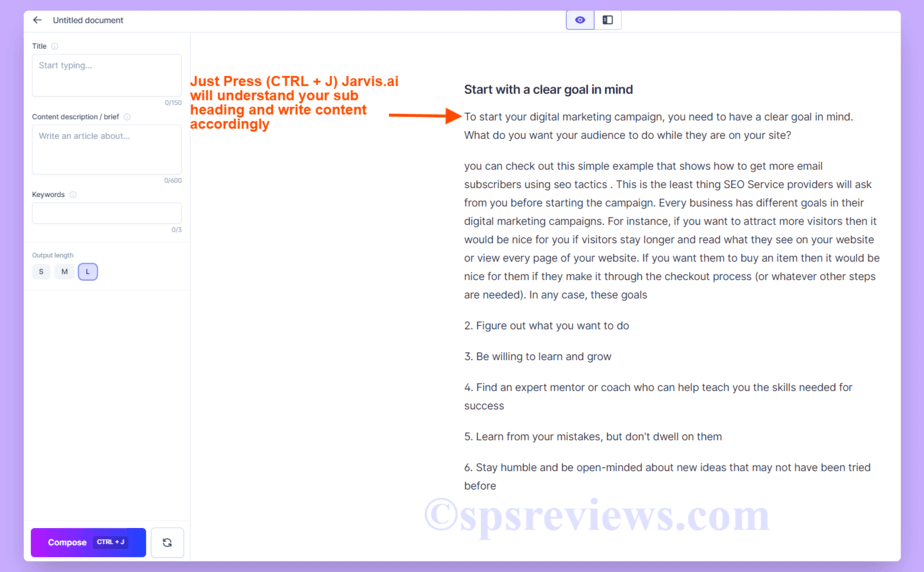 Blog post workflow:
Now let's talk about the "Blog post workflow" option. This is very similar to "Start from scratch".

Once you have chosen the "Blog post workflow option, it will open a page like this where you can describe what to write. For example, I told Jarvis to write a blog post on how to make money with gold.
Jarvis is a genius! Now Jarvis will understand my input and generates titles for my blog post. You can write your own title as well, but for now, I will go with Jarvis's given title. In case if you don't like any of them you can generate more tiles to find one that suits your style best
I have picked a title. Next, tell Jarvis to write an intro paragraph. There are different styles of paragraphs for the same topic.
Once you have chosen your intro paragraph, the document editor will open. You can then command Jarvis to write exactly what you want.
When you switch it to the power mode, all of the templates will open on the left side of your screen, while your document is on the right. You can use any templates and copy-paste content from them to your document.
What I like about Jarvis is that it has a "boss mode" on both "start from scratch" and "blog post workflow".
This is how easy it is to use Jarvis. In the next section of my Jarvis review, I will show you some templates and their outputs in real-time.
How Jarvis AI Is Better?
Jarvis is not like any other software. It is very effective for both marketers and non-marketers because it provides you with all the features which are necessary to write awesome copy with minimal effort.
The biggest reason why Jarvis AI is popular among internet marketers is that it provides complete copywriting solutions including ad copy, email messages, landing pages, blog posts, product descriptions, scriptwriting, stories, e-books, etc.
Since Jarvis is an artificial intelligence-powered tool you can write 5X faster and maintain the quality of your content. It uses a natural language generation system that provides you with the best words for writing copy.
Jarvis has acquired Shortlyai a few months which enables anyone to have freestyle of writing. This means you can give comments like "Hey Jarvis Write A YouTube Video Intro For "Online Business Checklist". No other tool can do this.
In some situations, Jarvis performs better than humans in scenarios because it follows a systematic approach to writing. It understands your business, audience and writes accordingly.
Jarvis can also write in your voice and style with its advanced AI that mimics the precise vernacular you use when writing.
With the latest update called "Jarvis Boss Mode" now you can write anything. Here are a few examples of what it can do.
Jarvis Users Reviews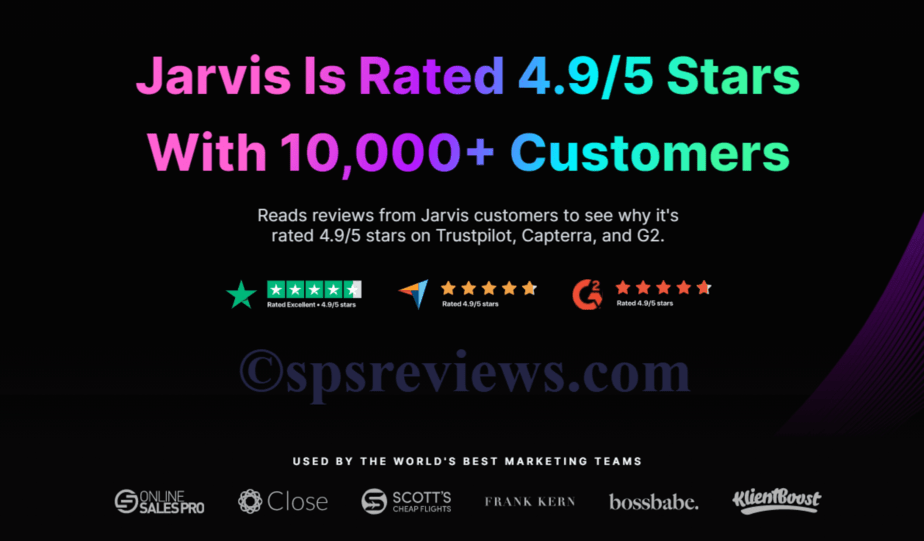 Jarvis has been rated 4.9/5 stars by some of the world's most popular review websites such as Trustpilot, G2.com, Capterra and is receiving amazing feedbacks from real users all over the globe!
With thousands of reviews to share, Jarvis AI copywriting tool sure knows how to impress its customers with exceptional quality work at affordable rates-making this software a must-have for any business looking for better content writing services without having to worry about hiring an expensive workforce or managing your employees in unbearable office hours!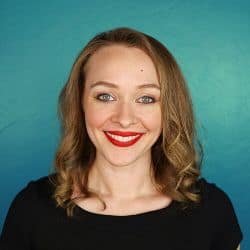 I was really struggling to keep up with my work as a content creator for the company, and I would come home feeling exhausted. With Jarvis AI, now I can be creative at any time of day – whether it's building out training or copywriting on social media! My only wish is that we'd met sooner- once other friends saw what this incredible AI could do in just one tool they were shocked– but even better than that? The team behind it is constantly coming up with new types of content for us to share online to thanks so much for letting me use you, Jarvis!
If you haven't gone Pro and picked up a Surfer subscription, then now is the time to do so. I've been running this website for years as well as using Jarvis since its initial launch; what sets Jarvis apart from other tools that are out there? It has no learning curve! My content creation experience just became seamless with my new tool.
A year of organic marketing in 30 minutes. I just created enough original engagement questions for a year of organic marketing in about thirty minutes so if you're still on the fence, please tell me why because something is not right with your brain at this point!
One of the best deals I made in 2021 was sneaking this one through. This is going to save me so much time!
Hello! First of all, you are a genius for coming up with this idea. I signed up as an affiliate on the same day and will be sharing your product like crazy in my social media channels to help spread the word about it because there is nothing out there quite like it which makes me think that its going to do really well.
Jarvis has got hundreds of testimonials from real people are online. You can search for them if you're curious about what other customers have to say.
10 Benefits of Using Jarvis AI
Jarvis AI Customer Support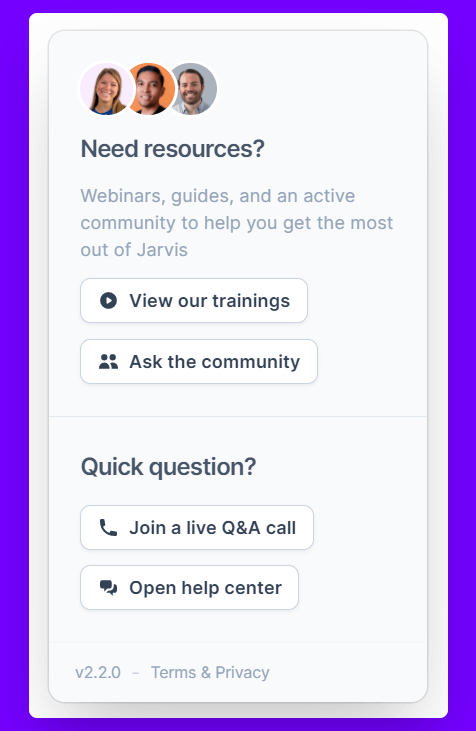 Jarvis has a 24/7 customer service team that is available to chat Monday through Friday from 9 AM – 9 PM EST!
They will answer your questions and solve any issues you may have quickly, so don't hesitate to contact them if there's anything we can help with
I have never had such a seamless experience with customer service.
I contacted their live chat support for the first time last month regarding my billing issue and the card declined for automatic payment which made me get inactive on the account because of overdue bills, but within few minutes of resolving this problem by manually entering in another form, they were back to being active again.
Also, you have an amazing tutorial center called Jarvis academy. Jarvis Academy is a must for any person who wants to save time and maximize their profits.
They offer tutorials that teach you everything from the basics of Jarvis, all the way up to some advanced strategies on how best to use it in different situations. It's worth checking out!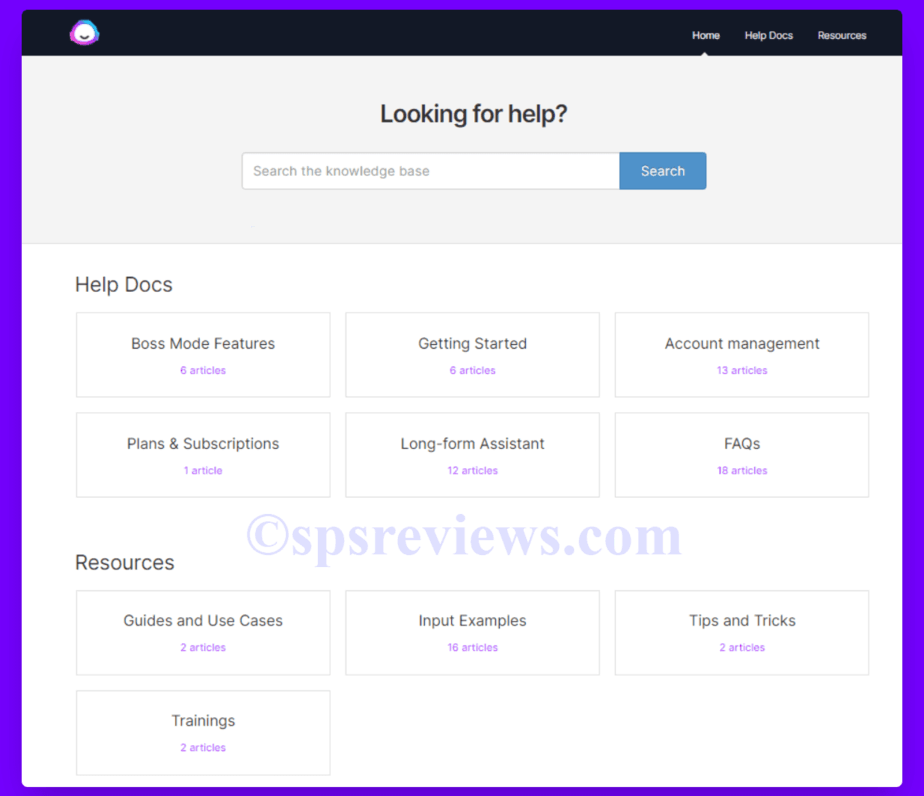 In Jarvis YouTube group where developers and experts do weekly live sessions and training on various strategies for success using Jarvis.
In case you want some tips and tricks from other users of Jarvis, then there is a Facebook group dedicated to answering questions in real-time with the CEO himself!
There are over 24,000+ active members sharing their real results of using Jarvis AI as well as providing answers to each other's questions.
I am also part of this group daily learning new things every day which has helped me make great progress on my own projects (getting feedback fast!).
The Pros and Cons
Pros
Cons
Jarvis Pricing
Jarvis AI has three pricing options (starts from $29/month), depending on the features you want to utilize and how much credit you need for your business's needs.
Jarvis offers three different plans: Starter Plan, Pro Plan, or Pro + Boss Mode plan with varying amounts of features from one another as well as differing in their credit limits.
Find out more about which option is best suited for what type of project by reading below!
Jarvis.ai Review: Final Thoughts
Thank you for reading my complete Jarvis review on this page today. I hope you enjoyed it.
Jarvis is a great tool for those who are looking to save time and money with copywriting without compromising on quality or creativity.
If you're not sure about this AI copywriter tool, email me or read the frequently asked questions section.


My Experience With Jarvis & Rating
I was always been a person who loves writing. It was my passion and I was good at it. But as time went on, I needed to focus on other things and my writing skills became rusty. Jarvis is changing that for me.
I came across Jarvis while I was browsing the web. I'm so excited to tell all of the other bloggers, marketers out there that Jarvis AI is the answer to all our prayers!
I have used this Jarvis to create some new content for my blog. Jarvis did extremely well. The articles are 100% unique and engaging. Now Jarvis is number one in my daily use software list.
Jarvis Boss Mode doesn't just compose blog posts – you can use this tool to create high converting marketing ad copies such as Google ads, Facebook ads, social media posts, sales scripts, stories and even song lyrics without having to worry about writing them yourself.
OVERALL: 4.5/5
Jarvis AI Bonuses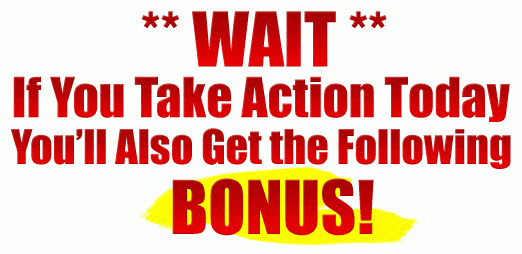 Note: this is the special Jarvis AI bonuses from me: If you get this Jarvis through my link, I will support you whenever you want (just add my skype sarathi2405partha). Seriously, I'll be your go-to guide when it comes to this product. You can ask me anything and I will give you a hand whenever necessary!
You can get the following bonuses for free. Just do this two steps.
High Value Bonus Also For Free (Value $1997)
Traffic Apps & Courses (Value $5000)
Bonus #1
Bonus #2
Bonus #3
Bonus #4
Bonus #5
Bonus #6
BONUS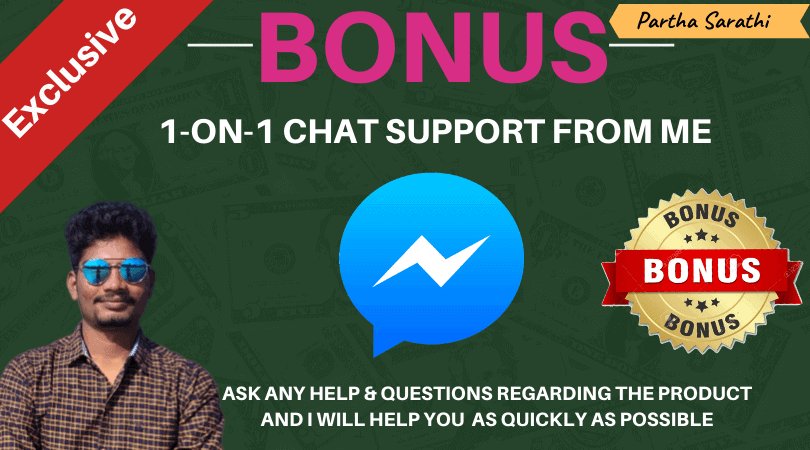 BONUS
Local Fee Finder is the newest Software that puts your Consultant Website intake forms on AUTO-PILOT. The Software creates Instant Client Intake forms WITH EASE, WHILE AVOIDING EXPENSIVE MONTHLY FEES ALTOGETHER. Installation is Super-Easy, and step-by-step instructions are included. Perfect for the Tech-Challenged Consultant!
BONUS
"Discover Our Proven System that Increases Positive Reviews, Improves Reputation and Increases Revenue for ANY Business While Easily Charging Recurring Monthly Fees…"
…Plus the Powerful Software for Landing Clients using the Perfect Foot-in-the-Door, Pain Point Service no business owner can ignore!
BONUS
Local Life Leads: Want to create a prestigious and highly profitable consulting business?, then THIS is for YOU…
BONUS
Brand New Local Consultant Kit That Gives You The Authority and Credibility To Land High-Cash Paying Offline Clients For Your Local Consulting Business!
BONUS
Attention: 6 Figure Offline Consultant Releases His New Instant Offline Consulting System For Demolishing Your Competition Overnight And Making Upwards Of 6 Figures Per Local Contract!
BONUS
To compete we developed a SYSTEM for easily getting website clients and a website theme that allows us to deliver high-quality professional websites at a low price AND still make a big PROFIT!
Bonus
Bonus
Bonus
Bonus
Bonus
Bonus
Bonus
Bonus
Bonus
Bonus
Bonus
Bonus
Bonus
Bonus
Bonus
Bonus
Bonus
Bonus
Bonus
Bonus
Bonus
Jarvis AI FAQ
What Is Jarvis.ai?
Jarvis is a revolutionary tool that can generate content for any topic, goal, and objective. Simply type in some sentences and Jarvis will do the rest while it analyzes your input with its advanced algorithms to create a perfect copy within seconds.
Does It Generate Plagiarised Content?
Jarvis writes 100% plagiarism-free content that's always original and never duplicated! I conducted research on a number of the articles they wrote to ensure there was no duplicate issue, but their work is so good it didn't take much time at all before I found something new & fresh with every piece I checked out.
How Jarvis AI Works?
Jarvis is an AI-powered copywriting assistant that works with your input words to help you write the perfect content for business use, social media posts, blog post titles, and more. You simply give Jarvis a few keywords or phrases about what you want to be written, then it will understand when those same keywords come up in future texts and produce accordingly – automatically!
Is Jarvis.ai Legit?
Yes, the developer team behind this AI copywriting tool is the same team of a well-known company called UseProof. Also, Jarvis does exactly what they claim on their sales page. Jarvis.ai does not tell you the get rich quick scheme or method instead you have access to the next generation writing technology app for your payment. So they never scam you.
Who Owns Jarvis AI?
Jarvis is owned by the same team who made UseProof.com. It has been created by the team of Dave Rogenmoser, who has also been the project manager and one of the lead developers since inception.
He launched useproof.com in February 2017 and it quickly became one of the most popular tools for marketers during those times.
Jarvis AI was a late idea to be conceived as this tool was actually first intended to be an education software but after thorough research and analysis, it was decided that this would be more profitable.
This business has raised over 6 million USD because there is a high chance for Jarvis to become very successful in the future which is why investors are interested in investing their money into this company to aid them to reach that apex.
How Much Does Jarvis AI Cost?
Jarvis is a fee-based subscription-based service, so the amount of money you spend depends on how much content you want Jarvis to generate for you. The basic plan is $29/month for 20,000 words generated by AI.
There's also a Pro plan which gives you everything from the Basic Plan and more: unlimited words with Jarvis AI commands for $109/month. If you're looking for something cheaper than that, the Starter Plan is $29/month for 20,000 words from Jarvis and can be upgraded to unlimited text entries or sentences.
There are also specialized plans such as Boss Mode that give you unlimited words with all available commands starting at $24/month.
Is Jarvis AI Worth Buying?
I've used Jarvis for more than 6 months now. I spend less than an hour total writing each post for my blog, and it's saved me tons of time since I have started using this AI tool. It's made my blog posts that much better with good content.
Jarvis is definitely worth the money and will save you a lot of time. My days are much more productive now that I've got Jarvis AI writing for me.
I can't say enough good things about Jarvis. It's saved me hundreds of hours in research and copywriting. When I first started using it, I wasn't sure if I was using it correctly, but now that I know how to use it, I've made a lot of progress.
In the past few months alone I published more than 30 pieces of articles, which were written completely by Jarvis. There's no way I could have done this without Jarvis writing for me – not possible!
Does Jarvis Have a Free Trial?
Jarvis does have a free plan to start with. You will get 10,000 free credits which are equal to 10,000 words. You can use this plan and test Jarvis before upgrading to any paid plan.
Does Jarvis AI Offer Lifetime Deal?
No, Jarvis is not like the other software that you can buy for a one-time fee. Some of these are on websites like JvZoo and Warrior Plus. Jarvis never offers lifetime deals for a one-time fee.
What Is Jarvis AI Boss Mode?
Boss mode is a new feature of Jarvis which allows you to write up to twice as fast and gain control over your writing by using the Jarvis commands that allow it does what you need for it as any good boss does.
Does Jarvis AI Works in Other Languages?
Yes, Jarvis can write content in 25 different languages. You can also input foreign words as well.
Input Languages
"BG" – Bulgarian
"CS" – Czech
"DA" – Danish
"DE" – German
"EL" – Greek
"EN" – English
"ES" – Spanish
"ET" – Estonian
"FI" – Finnish
"FR" – French
"HU" – Hungarian
"IT" – Italian
"JA" – Japanese
"LT" – Lithuanian
"LV" – Latvian
"NL" – Dutch
"PL" – Polish
"PT" – Portuguese
"RO" – Romanian
"RU" – Russian
"SK" – Slovak
"SL" – Slovenian
"SV" – Swedish
"ZH" – Chinese
Output Languages
"BG" – Bulgarian
"CS" – Czech
"DA" – Danish
"DE" – German
"EL" – Greek
"EN-GB" – English (British)
"EN-US" – English (American)
"ES" – Spanish
"ET" – Estonian
"FI" – Finnish
"FR" – French
"HU" – Hungarian
"IT" – Italian
"JA" – Japanese
"LT" – Lithuanian
"LV" – Latvian
"NL" – Dutch
"PL" – Polish
"PT-PT" – Portuguese (all Portuguese varieties excluding Brazilian Portuguese)
"PT-BR" – Portuguese (Brazilian)
"RO" – Romanian
"RU" – Russian
"SK" – Slovak
"SL" – Slovenian
"SV" – Swedish
"ZH" – Chinese
Are There Any Jarvis AI Competitors?
Yes, there are many AI copywriting tools on the market right now such as Flowrite, Shortly.ai, Peppertype, GoCopy, ContentBot, SmartWriter, CopyMatic, Snazzy, Writesonic, CopyAI, Copysmith, ShortlyAI, Headlime, Wordtune, Copykat. Most bloggers, YouTubers do recommend other tools as an alternative to Jarvis AI only because of the cost. But the truth is Jarvis is way better than others. Jarvis produces much better output but it is costlier than the other ones.
Is There Any Free Trial to Jarvis?
Yes, whether you're in need of a premium plan or just want to see how Jarvis AI works before subscribing, the 5-day free trial is perfect for anyone looking for an affordable way to get started with this program.
What Is Jarvis Refund Policy?
Jarvis offers a 7-day refund policy, so you won't have to worry about buyer's remorse! If for any reason whatsoever Jarvis doesn't live up to your expectations or is in any way dissatisfying then simply submit a refund request via chat and the company will issue an instant full cashback on top of their 100% money guarantee.
Jarvis AI Review Updates
Jarvis AI Boss Mode (29-July-2021)
Jarvis AI introduced a new feature called "Boss Mode" after acquiring ShortlyAI. It will allow you to take control of the AI and do things manually that Jarvis would otherwise overlook because the AI thinks it's not worth your time.
Jarvis Boss Mode is really powerful. It will allow you to write 5x faster than the manual approach and it is a great way of learning how Jarvis works behind the scenes. Learn more
Jarvis AI Recipes (21-July 2021)
Jarvis has recently introduced a new feature called recipes. Recipes are pre-built workflows that contain a series of Jarvis commands to help you create content with Jarvis using a repeatable process. You can create your own or save recipes shared by the community.
This will help you create content faster but more importantly, it will help you get a better understanding of how Jarvis works under the hood. Learn more
Thank you for spending your valuable time on our website. If you liked my Jarvis AI review article, then please subscribe to our YouTube Channel, like our Facebook page & follow us on Twitter for the latest reviews & updates.